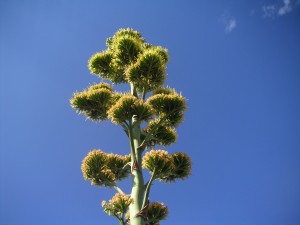 Ode to Agave…
If you haven't taken a peek at the Green Roof lately, you'll want to head up to see what is thriving in the heat. I can fairly safely say that here you will find the highest bloomin' agave in Denver. Not only is it perched way up on the roof of the café, but it boasts about 12 feet of its own height!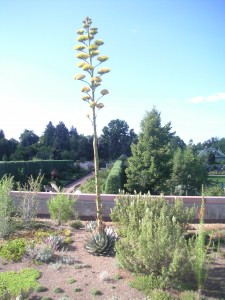 Perhaps the tallest of the six agave currently blooming at DBG, it reigns over three plants in the Rock Alpine Garden and two in Dryland Mesa. This week, its red buds are giving way to yellow blooms, which the bees cannot resist!
Where does the tequila come from? Well, unfortunately not from the species that are hardy here. But if you had a Mexican blue agave, you could turn it into the fiery drink by stripping the leaves from a twelve-year-old plant, then steaming or baking the remaining core, turning the starch into sugars. Then, you could make agave sweetener, or you could ferment and distill it to make alcohol. Check out this clip of the harvest of the blue agave, then come admire our decorative varieties.
Gardens Not to Miss:
For color: All America Selections Garden, Lainie's Cutting Garden, Shady Lane, water lilies. For shade: Woodland Mosaic, Oak Grove, Gates Montane, PlantAsia.