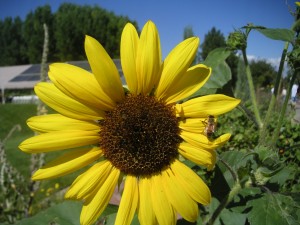 The color of the week is yellow, to match the sun which is visiting us with all its July enthusiasm. You'll find plenty of yellow flowers in the Gardens this week; here are a few standouts.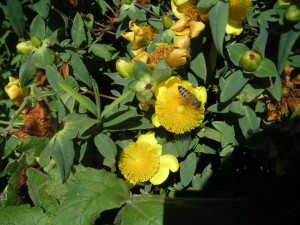 One of my favorite bright yellow, midsummer bloomers is St John's Wort (Hypericum). Its blue-green leaves complement deep yellow flowers. Find it in PlantAsia as well as along the Perennial Walk.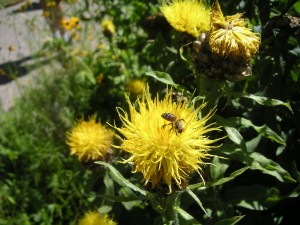 Centaurea macrocephala is a lesser-known relative of your garden-variety bachelor button, but this version boasts fuzzy yellow heads and large, interesting buds and seed pods. See it in the Birds and Bees garden.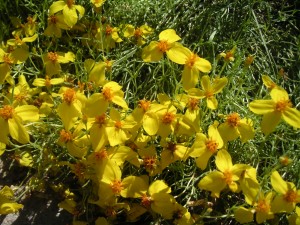 Zinnia grandiflora neither resembles its zinnia cousins, nor is its flower particularly "grand", but it is a cheery, low-growing, xeric mid-summer bloom. A lovely patch of it can be found in Dryland Mesa, as well as in the Cottonwood Border.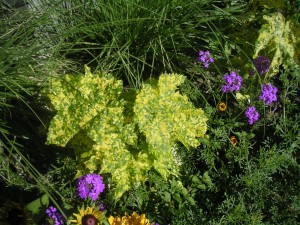 Flowers aren't the only yellow you'll see around here. Admire the leaves of this flowering maple (Abultilon) in front of the Visitor Center even before its pretty flowers appear.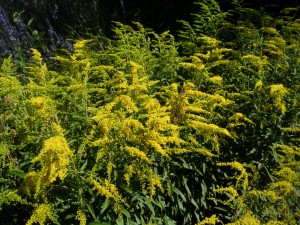 Don't overlook goldenrod, just because it is "common." This version, Solidago rugosa 'Fireworks,' is an especially attractive and heat-loving plant. This picture was taken in the Herb Garden.
Gardens Not to Miss:
Sacred Earth Garden is exploding with southwestern plants: squashes, corn, amaranth, datura, sunflowers…Also be sure to visit our shadiest gardens as the temperature climbs: Woodland Mosaic, Gates Montane, and PlantAsia.And the water lilies are splendid just now, and recovering from their hail adventure.