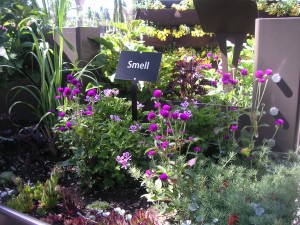 Like the bees that are everywhere, I am buzzing from flower to flower this week. So much to see, to smell, to enjoy!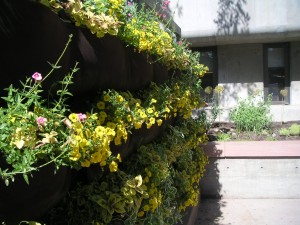 Engage Your Senses
If you haven't had a chance yet, go take a look at our new Sensory Garden, located east of the main building. Many features in this garden allow visitors of all abilities to experience the Gardens.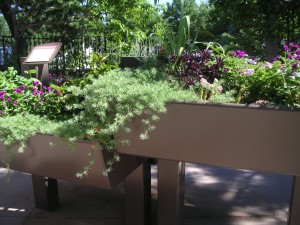 Planting walls, raised beds, and a burbling rock fountain are just a few of the delights to be found here.
A Clematis by Any Other Name…
Whether you say CLEMatis or CleMATis, these beauties are out in force all around the gardens. Visit the Romantic Garden to see them creeping up the trellises,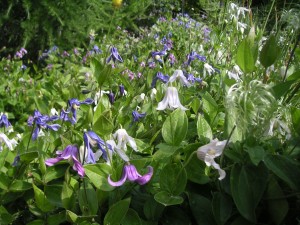 and stop by PlantAsia to admire fields of bush clematis and their Dr. Seussian seedheads.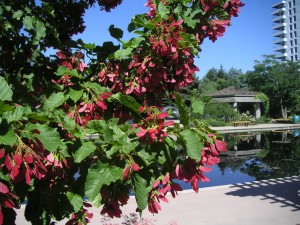 Random Blooms
The Tatarian maple (Acer tataricum 'Hot Wings') in the Plant Select Garden may be young, but already it is showing its colors! You'll also find a number of these terrific trees in the Mordecai Children's Garden.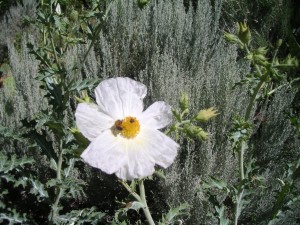 Prickly poppy (Argemone mexicana) bears an ethereal flower on a wicked stalk! I love this plant for its beautifully variegated leaves, its delicate flower, and its ability to pop up anywhere and grow with no water at all. See these in Dryland Mesa, and elsewhere.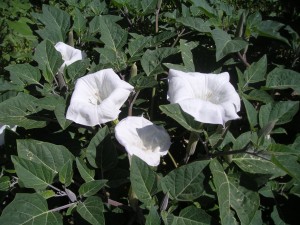 Another low-water favorite is datura, found in the Sacred Earth Garden. Its white or purplish flowers and interesting seed pods will provide interest throughout the summer.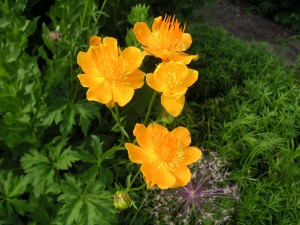 And catch this gorgeous trollius (Trollius x cultorum 'Prichard's Giant') blooming unseasonably late along the Birds and Bees Walk.
Gardens Not to Miss:
The Rose Garden is at its best just now, and the water gardens are beginning to bloom. The Water-Smart Garden loves the heat, and Perennial Walk is a show-stopper! Woodland Mosaic is a cool oasis, as is the Gates Montane Garden.