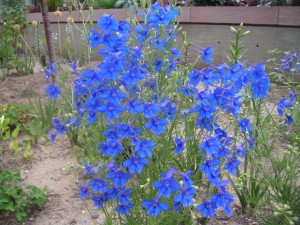 Blue—a much-sought-after color in the gardening world—is really not so hard to find. This week, we've got the Blues:
This vibrantly blue Delphinium grandiflorum 'Blue Butterfly' leaps out at you from the new beds along Shady Lane. You can't get much bluer than this…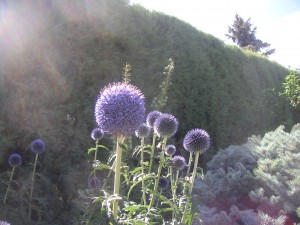 Echinops sphaerocephalus (globe thistle) waves large round deep blue flowers on prickly foliage. See it on the eastern side of the Perennial Border.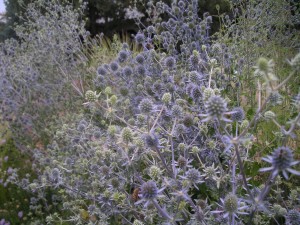 The unrelated, but similarly spiky Eryngium (sea holly) can be seen in numerous places throughout the Gardens. It does well with low water, but also is happy in a moderately wet garden. This particular plant (Eryngium planum 'Blaukappe') is found in the Water-Smart Garden.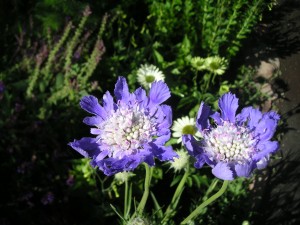 Take a peek at Scabiosa caucasica 'Fama' (which sounds like something out of Harry Potter, doesn't it?), with its large and complex blue flowers—gorgeous! See it in the Birds and Bees Garden.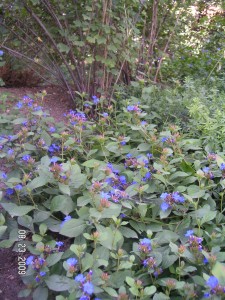 Two different types of plumbago, one hardy and one tender, give you two different blues. Ceratostigma plumbaginoides, the hardy version with deep blue flowers, blooms from mid-summer to fall, and, if that weren't enough, follows up with stunning red fall foliage. See a large swath of this beauty in the Romantic Garden, just near the Waring Gate.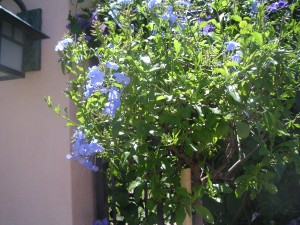 Its tender cousin, Plumbago indica, is in view for the summer at the entrance to the El Pomar Waterway, in a pair of large pots. Clipped into a tree form, the clear light blue of this plant will make you want one of your own.
Gardens Not to Miss:
The Laura Smith Porter Plains Garden is happily in bloom, with multitudes of wild flowers delighted by the wet weather. Be sure to pause at the Montane Pond. Watch the dragonflies and water bugs avoiding the swallows which are diving for a meal. Enjoy the cooling sound of the waterfall. Venture into the Montane Garden for a breezy feel of the high country.