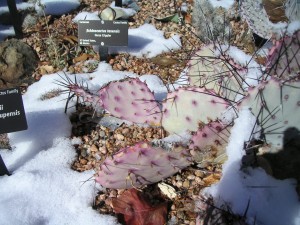 Our cactus and succulent collection is fascinating any time of year, but in winter it offers interest above and beyond other plants that lie dormant. Gardener Nick Daniel is in charge of much of this collection, and he filled me in on his week and offered some tips for home gardeners.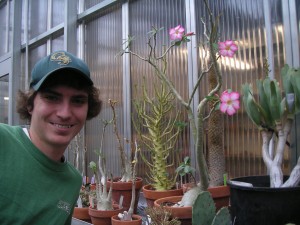 This week, Nick has been busy creating a new display called "Succulents under the Sea." This slightly tongue-in-cheek title refers to the look of the display, located in the entrance to Marnie's Pavilion, which will combine unusual non-hardy succulents with lava rock to create a distinctly underwater look!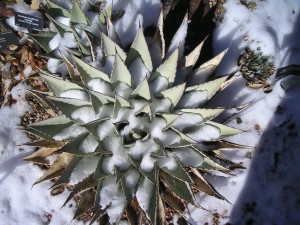 Also this week, Nick is spending time checking his plants for pests. Since the plants and their insects are slower-growing in the winter, it's easier to attack any pest problems. Nick suggests manual removal for mealy bugs and other critters, or use a q-tip with alcohol, which won't damage the plants. Don't use soap on a succulent—it will do harm. He also recommends gently washing the roots of any new succulent you acquire, then repotting in fresh soil—pests can live in the old soil and infest your collection.
Look Out For: Nick recommends a trip to the Dryland Mesa garden to admire how these hardy cacti and succulents provide winter color and texture in the garden. And be sure to spend time in the Cactus and Succulent House in the southwest corner of the Gardens, to see hundreds of non-hardy succulents soaking up sun.
• Glottiphylum longum is showing large, yellow, iceplant-like flowers.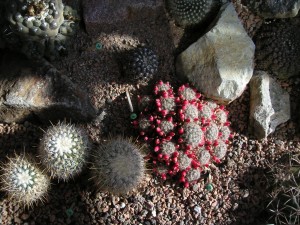 • Mammillaria prolifera, just as it sounds, is covered with deep pink fruits.
• Outside, the agaves and cacti present a variety of texture and color, enhanced by a dusting of snow.