Purple is an easy color to love in the garden. From palest to deepest, you'll find a shade for every mood this week.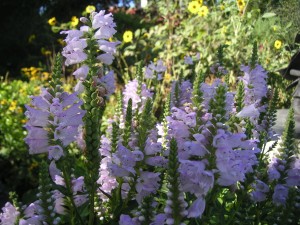 This Obedient Plant (Physostegia virginiana) often appears in white, but in the Birds and Bees Garden, you'll find it in the palest of purples. Why Obedient? If you bend a stem, in theory it will stay where you put it.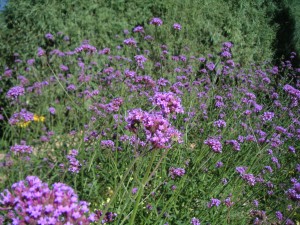 Verbena bonariensis rides on a delicate long stem, and creates a field of color when planted in a mass. See it on York Street, in the Rose Garden, and elsewhere.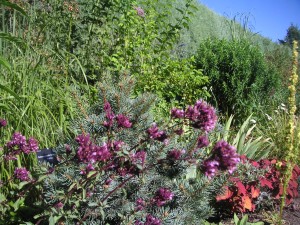 Hopley's Oregano (Origanum laevigatum 'Hopley's') is a flowering decorative oregano. Find a good example in the Perennial Walkway. Mojave Sage (Salvia pachyphylla) is another decorative herb that offers a lovely purple bloom. This extremely xeric, heat-loving plant is happy in Dryland Mesa.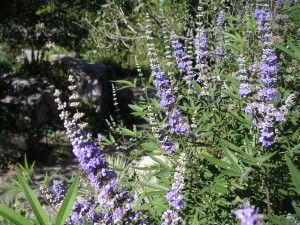 Vitex agnus-castus is a lesser-known shrub with five-fingered leaves and masses of lavender blooms. Find one on the southern edge of the Plains Garden.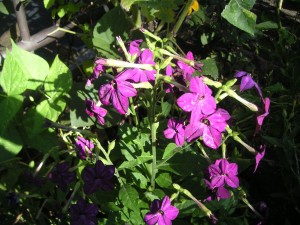 The humble annual Nicotiana comes in a deep purple that stands out in our All-America Selections Garden.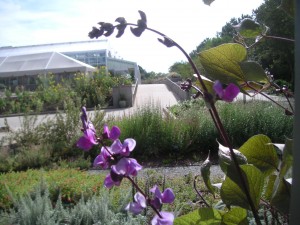 Finally, this week, the ever-beautiful Ruby Moon Hyacinth Bean (with one of the best Latin names ever—Lablab purpureus) is showing off its purple-veined leaves, purple flowers, and purple seed pods in the Radichel Plant Select Garden and in All-America Selections.
Gardens Not to Miss:
If you see nothing else this week, be sure to admire the water-lilies, lotus, and other flowering pond plants, found in the Monet Pond and the Anna's Overlook Pond. The variety of color in both leaf and flower will knock your socks off.