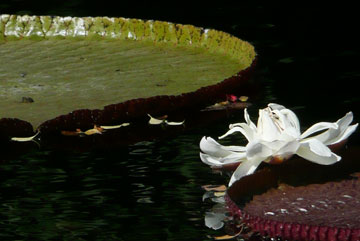 Collector's Series
It was a special day, which seems to be the norm these days at the new and vibrant Denver Botanic Gardens. It was Saturday morning, Sept. 18, 2010. It was unusually warm, yet pleasant.
The visitors were buzzing as they were enjoying immensely their strolls through the fascinating, bold and inspiring outside gardens.
Cameras were snapping. One visitor commented on her fascination with the fairyland fog-laden and waterlily-decorated Four Towers Fountain Pool.
First Victoria Waterlily Flower Dazzles all at Monet Pool
The "icing on the cake" was the splendid pearly-white Victoria flower cradled amongst the gently swaying, distinctive, giant water-platter leaves. A long time coming, it was a special treat for the many energized visitors.
At the surface is another bud, it's a real long shot for this to open considering the cooler weather approaching.
Much More to See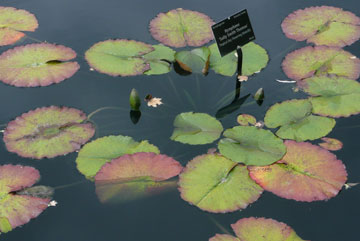 The tropical waterlilies now sport bold purplish leaves; a reflection of autumn's cooler and shorter days.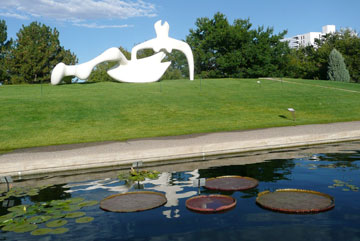 The ever-popular Henry Moore sculptures are more striking than ever, now reflecting so beautifully in the Gardens' pools.
Can you find the several resident mallard ducks that curiously glide from waterlily to waterlily, eating aphids as they visit the now aging weathered leaves?
A real , real, real long shot . . . will you catch a glimpse of the resident fox?
It's an absolutely fantastic time to visit the Gardens!