Collectors Series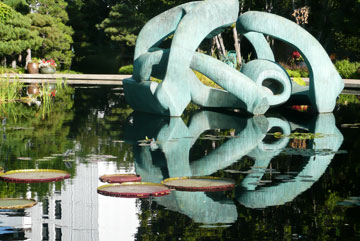 The drama, beauty and fun continues. Warm days persist--waterlily splendor is at its best. It's time to enjoy the changing colors and spine-tingling reflections in all our pools, including the Four Towers Fountain and the Monet Pools.
Victoria Bud Rises to Surface - The first Victoria bud is at the surface and about to open [Sept. 14].  The first flower is not generally of great merit. We are so far into the season, a second flower may or may not come.
All the better!
At the Monet Pool alone, one is treated to a multitude of breathtaking scenes.  The tall surrounding apartment buildings reflect beautifully in the shimmering water. Likewise, the magestic 9,000 pound "Hill Arches" Henry Moore sculpture is superb amongst the Victoria giant water platters.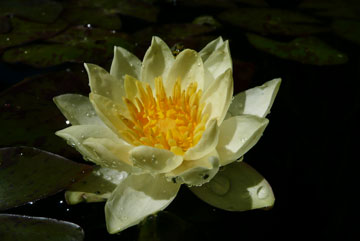 'Helvola'…the Grandest Little Waterlily on the Planet - On the way to the Monet Pool stop at the popular Zen Doorway pool for a special treat. In the foreground find the diminutive charming smallest hardy water of all, Nymphaea 'Helvola'.
The petite canary-yellow flowers are charming, exquisite and precious, measuring a mere 2 ½ inches across. On warm days flowering commences at 11:30 A.M.
The best part: the luscious, horseshoe-shaped mottled leaves.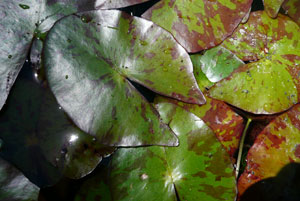 Come Quick!