The Gardens, including the water gardens, are fabulous if not spectacular in September.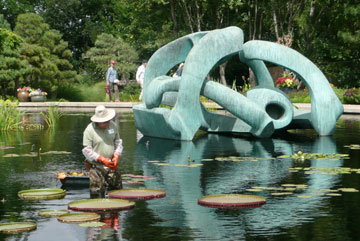 Victoria…grandest waterlily of all!
Whereas the hardy waterlilies are slowing down a bit in September (many have been flowering since late May), the tropical waterlilies including the Giant Water Platter are coming into their own. On warm sunny days they will delight all with their handsome leaves and
eye-popping colorful flowers.
Visitors are astonished by one of the most amazing of all plants. The awesome Victoria leaves approach ten feet in diameter in warmer climates or where the water is heated. The huge flowers are white the first night and red the second. The rich pineapple aroma can be enjoyed from ninety feet away on breezy days.
The leaves sway poetically in the slightest wind. The sharp spines discourage would-be predators. A network of vein-like ridges on the undersides provide for the impressive strength of the paper-thin leaves. Such design was utilized in the 1851 construction of the famous Crystal Palace in London, England to house the Great Exhibition. 
Growth was impressive on earlier warm days, when the leaves grew five inches per week. With the cooler days and night temperatures soon falling to the forties, the growth has nearly come to a standstill in our pools.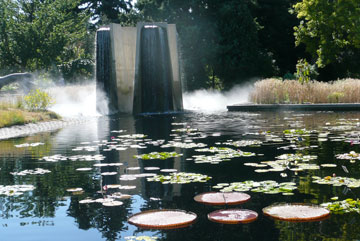 The two Victoria species Victoria amazonica and V. cruziana are native to the Amazon basin. Patrick Nutt of Longwood crossed the two species and created V. 'Longwood Hybrid'. We display V. cruziana and V. 'Longwood Hybrid'. Planting is on or about July 20; planting earlier is risky because of the colder water.
When will the first flower come? One bud is within four inches of the water surface.  It may or may not open as warm days are a thing of the past.
Regardless, a visit to the Gardens promises an extraordinary experience. Follow the waterway beginning with the Four Towers Fountain pool. We have five Victorias on display; one in the Four Towers Fountain pool, one in the Zen Doorway pool (near the All-Americ Selections Garden) and three in the Monet Pond.
Don't be in a hurry. You will miss the mesmerizing sounds of tumbling, bubbling or gliding water; the backdrop of the "really cool" Moore Exhibition sculptures and reflections that will make you tingle.
You are in for a real treat!