Maybe it's the crisp prairie air at the turn of the season, the countless families celebrating an annual tradition, or the occasional child exploring the pumpkin patch in dressed in a wizard costume, but the Pumpkin Festival at Chatfield always feels magical. Watching families happily stroll down the paths with wagons full of pumpkins is a rewarding experience.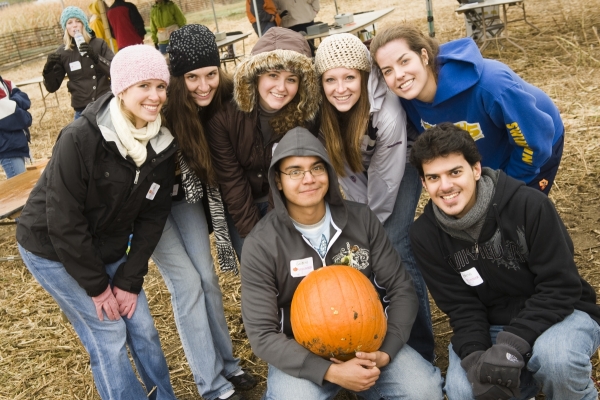 As a volunteer coordinator at Denver Botanic Gardens, I know that nearly 600 volunteers are responsible for the successful execution of this beloved three-day event and each volunteer has a different motivation for participating.  
For some volunteers, helping out at the Pumpkin Festival is as much of a fall tradition as attending the event itself. Volunteer Celena Martinez exclaimed that "Volunteering at the Annual Pumpkin Festival has become a fall staple in our household. It's the kind of event that makes you want to volunteer, and seeing the other families, costumes and pumpkins are the best way for us to kick off Fall!"
Many of our Pumpkin Festival volunteers are high school and college students from the Denver metro area, seeking enjoyable, rewarding opportunities to fill student service credits required for school. Pumpkin Festival volunteer roles are perfect for any age though. Duties are straight-forward and training for most positions takes place at the beginning of each volunteer shift, requiring only a small time commitment for those with a busy schedule.
Volunteering for Pumpkin Festival is fun, rewarding, and only requires a few hours of your time.  Plus, volunteers get to take home a free pumpkin from the patch at the end of their shift!  Volunteer positions range from selling tickets at the front entrance to helping with family favorite activities such as pumpkin bowling and popcorn monster hand building.
Morning and afternoon shifts are available Friday, October 11 through Sunday, October 13, so sign up today at http://tinyurl.com/dbgpumpkin.
For group volunteer opportunities or questions about volunteering for Pumpkin Festival, please contact Adam at 720-865-3565.