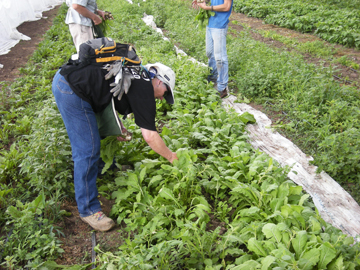 Spring is in the air and it's a great time to visit Denver Botanic Gardens at Chatfield! Chatfield offers many great programs, including a new Veteran Reintegration Program.
Are you a post 9/11 military service member? Do you know a veteran who has recently returned to civilian life?
On March 29, 9:30-11:30 a.m. Denver Botanic Gardens at Chatfield will hold a farm tour and information session for this progressive new endeavor. We invite everyone to join us and learn more about this important initiative. Attendees are asked to meet at the Earl J. Sinnamon Visitor Center (park in paved parking lot). The mission of our program is to provide opportunities for veterans and their families to make a smooth transition from military life to civilian life while learning valuable skills and enjoying Chatfield. While engaging in an authentic educational and community-based agricultural experience, our veteran participants have the opportunity to address self-identified social, vocational and therapeutic goals. Completion of the program will result in a certificate of completion, which will qualify participants to start and manage a home vegetable garden or even begin an agriculture career.
The program was launched in spring 2013 to address the reintegration goals of the increasing number of Denver-Metro area post 9/11 military veterans. We enjoyed a high level of success in 2013 and look forward to another great program this year. Last year, we collaborated with nine veteran participants and are happy to announce that we are increasing our capacity to 20 veteran volunteers in 2014!
We have witnessed the resiliency, determination, dedication and unparalleled work ethic that veterans offer to the field of agriculture, horticulture and to our public garden. Our veteran participants are not afraid to get their hands dirty. They apply their military skills and experiences to the farm and problem solve in a creative, efficient manner. Over the course of a six-month growing season, veteran volunteers will cultivate the soil, plant vegetable seeds and seedlings, perform general maintenance and harvest vegetables on a 5-acre Community Supporting Agriculture (CSA) farm. We are introducing new horticultural opportunities within the program that will include installing native flower gardens, maintaining ornamental flower beds/plantings and working with annual flower displays.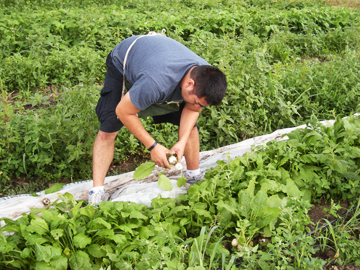 Above and beyond the practical, hands-on experience of the Chatfield Veteran Reintegration Program, we are extremely grateful to be supported by volunteers and community partners who will provide free classes such as Canning 101, Stress Management, Food Nutrition, and Building a Resume and Applying for a Civilian Career. 
This fall, we will invite the Denver community to financially support the Chatfield Veteran Reintegration Program by purchasing decorative and festive specialty gourds, ornamental Indian corn and popcorn (on the cob) at the Denver Botanic Gardens' 2014 Pumpkin Festival! The veteran participants in our program will learn how to grow these products from start to finish and sell the products to the public. Proceeds from this fundraiser will ensure that the program and hundreds of future veterans will have the opportunity to thrive for years to come.
We have experienced overwhelming support from colleges, universities and resource centers in the area and look forward to partnering community organizations. One of our newest collaborations will be with the Colorado AgrAbility Project.
The Colorado AgrAbility Project works with farmers and ranchers who have mild to severe physical impairments. The Project educates them about new technologies or adaptive tools that allow them to continue their careers in farming and ranching. They are also dedicated to introducing individuals with physical impairments to the world of agriculture and will help clients write a business plan and plan finances. The Chatfield Veteran Reintegration Program equips veterans with solid, hands-on farming knowledge and Colorado AgrAbility has the ability to take that experience and make farming or ranching goals a reality!
COME ONE, COME ALL! The farm tour and information session is on March 29 at Denver Botanic Gardens at Chatfield. You can also visit our NEW Chatfield Veteran Reintegration Program webpage at where you will find additional information and our online application.
For more information email us at veterans@botanicgardens.org