Tulips are one  of the few plants that almost everyone recognizes instantly: since tulips originate in climates so similar to Colorado, and in fact we can grow some kinds unirrigated in some sites. I am always dumbfounded that so few are found in gardens. And those that are are usually the tall Darwin hybrids that usually don't even come into bloom until May.
Waterlily tulips (Tulipa kaufmanniana) in the O'Fallon Perennial Border
I have always had a predilection for the various kinds of wild tulips, many of which are every bit as colorful and showy as they hybrid kinds. I planted waterlily tulips (Tulipa kaufmanniana) repeatedly in the Rock Alpine Garden when I was curator of that garden: a few colonies still persist, but I never dreamed we would have this stellar display in the O'Fallon perennial border.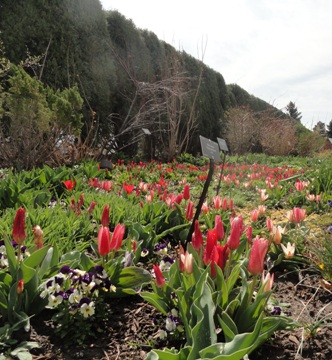 Last autumn Mike Bone and I went to Kazakhstan to collect seed and study this distant region that is so similar climatically to ours. Tulips are perhaps the most sought after flowers there, and dozens of species grow in the country including the waterlily kind above and other early season dwarfs. I was shown pictures of how these grow in the countryside, and I was amazed this spring to see that Ross Shrigley, Senior horticulturist who oversees the perennial border, has practically recreated an alpine meadow in the Tian Shan where these tulips grow in just such drifts.
If you don't have a ticket booked to Almaty, why not mosey on down to DBG and catch a glimpse of the steppe in full bloom: only in the Perennial Border. The bulb displays at the Gardens have improved immeasurably in the last frew years with more and more spring bulbs.  You don't have to wait for the summer doldrums to visit: we are flashy every day, and you can take a side trip to Kazakhstan while you are at it (all in our grounds!)...