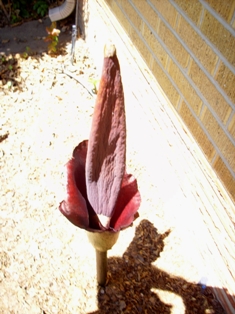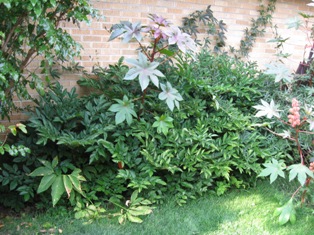 Some people love snow. My idea of a good winter sport is snorkling--NOT at a local reservoir incidentally...for those of us who love lushness and green, winter can stretch interminably. I'm not the only one living in denial: Mark McCauley is a keen local gardener who has a special interest in growing plants that SHOULDN'T grow here, and has even succeeded in growing Amorphophallus konjac, a cousin to the Titanic aroid which has the largest flowers of any flowering plant. A number of Amorphophallus come from high mountains in Southeast Asia where cold does occur, and I've tried growing this myself without any luck.
Trust one  of our members to upstage us! The pictures above show Mark's plant blooming in May (notice not much green stuff around: these plants are wise and only send up foliage later in the year). Notice how lush the plant grows in the summer, and (in the picture below) the gorgeous seed pod which Mark generously shared with us at the Gardens.
Here is another instance of a horticulturist in our community swinging out and trying some really edgy plants, and succeeding spectacularly by providing a perfect microclimate. In this case, along the south side of a house in the West Metro part of town (lots of rich soil and water too!). By manipulating microclimates, local gardeners are succeeding with the hardiest palms, hardy cannas and no end of unlikely subtropical and tropical outliers. 
Global warming is no doubt helping these efforts. But when the snow is blowing and winter stretches out before us, I am somehow comforted to know that there are Amorphophallus growing nearby that will emerge next spring, and some lucky local might be sunning beneath a palm tree during a sunny spell in January!
Photos courtesy of Mark McCauley