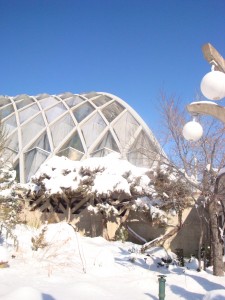 Denver has just had a foot of snow, but the Boettcher Memorial Tropical Conservatory is glowing with humidity and learning opportunities. If you're dying to get out of the house, Denver Botanic Gardens has just the solution for you. Often times during winter when we drive by or think of the Gardens, one word comes to mind: cold. However, inside the Boettcher Memorial Tropical Conservatory, the temperature is a balmy 70 degrees or higher.
Every Saturday and Sunday, free hour-long drop-in tours are offered. If you would like a tour at another time or for a larger group, call ahead (720-865-3539) to schedule your tour.
When I visited, a lovely docent named Nevin led us through the Boettcher Tropical Conservatory. I wouldn't have imagined that over 350 species grow within the poured cement walls. But in the short 60 minutes we spent with Nevin, I learned that plants have lobster claws, some wood is so dense that it sinks in water, and poison dart frog babies (not truly poisonous) have been released into the observatory and are quietly watching you as you walk through the tropical leaves.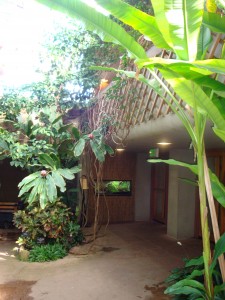 Nevin has 35 years of horticulturist experience under his belt. Now retired, he regaled us with facts about the various types of bananas, the largest orchid in the world, and the bottle brush plant that looks like a hybrid between a houseplant and a hot pink children's toy. The next time you're sitting inside, watching a cold day go by outside, consider touring the Boettcher Memorial Conservatory. You can't imagine the wonders you'll discover inside.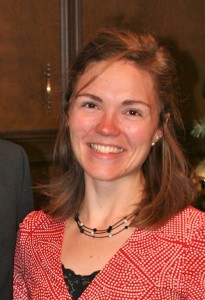 Guest Blogger: Gwendolyn Eden
Gwendolyn works as a high school English teacher at Academy High School in Thornton, CO. She enjoys her membership at the Gardens and looks forward to starting Denver Urban Garden's program this spring: the Master Community Gardener Program. When she's not reading students' writing, Gwen dreams of urban gardens that bring food and empowerment to people's lives.
Look for future posts by Gwendolyn as she documents her recent visit to the Garden's Boettcher's Memorial Tropical Conservatory.