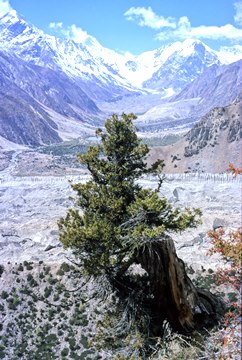 Juniperus excelsa
Photo: taken mid-September, 2001 above treeline in the Pakistan Himalaya. Notice this rugged, treeline behemoth was cut for firewood. It is sadly emblematic of how we humans have taken an enormous toll on forests worldwide, not just in nature, but in our cities where tree longevity due to pollution, vandalism, disease and just plain complacence has left our urban forest canopy in tatters.
You can do something to help! By picking better, more diverse trees for your home garden and other properties you might have say in you can help create a more diverse, more beautiful and more durable urban forest for Denver's future.
Consider attending EVEN MORE TREE TYPES--the second year Denver Botanic Gardens and the University of Denver have sponsored a symposium dedicated to raising knowledge and awareness on the plight of our urban woodlands. The first year was a resounding success--with a wide attendance among arborists both city and private, many nurseries and landscape designers in attendance. This year we are encouraging more private citizens to attend: the lineup of speakers is stellar, and the information they will provide will help you gain a firm grasp on what you can do to help out.
Click HERE to see the Friday, Mar. 6, 2015 lineup for this wonderful late winter opportunity to learn more about the best trees for Colorado!