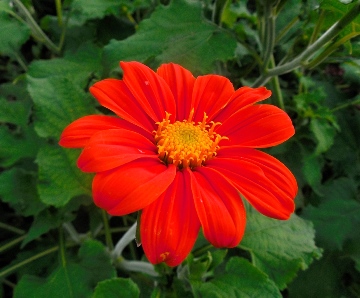 Tithonia rotundifolia
For years I have admired this giant daisy at Denver Botanic Gardens, where it is planted here or there in various annual groupings. This year, I decided it was time to enjoy it at home. I obtained a few small seedlings from a nursery in Arvada and planted them out rather late...wondering if I'd see a flower before frost!
This week this furry, gigantic monster (like a marigold on steroids) has come into its full glory. I regret I've waited so long to grow it. Next year I shall plant it several spots in my rather too-largish garden.
This, the most commonly grown species in the genus, grows wild in Mexico southward into Central America. I have seen it grow seven or even more feet in height (given a suitably warm, well-watered site), although mine are more like 4' tall thus far. It is best planted from small containers after danger of last frost--although some have success direct sowing in May.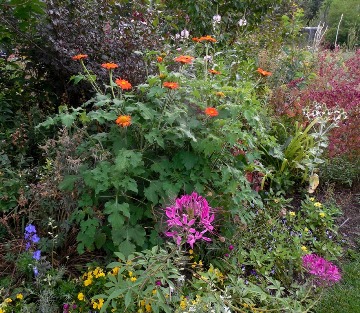 Here you can see it in context--combining wonderfully with purple Spiderplant (Cleome spinosa). It is usually recommended for "screen planting" (i.e. at the back of the border--due to its enormous size). But the soft, wonderfully lobed leaves are so attractive, as well as the flower up close, that I'm glad that I have mine close enough to the path to touch without trampling the garden. It is supposed to make a good cut flower--I shall have to try and see.
This is an example of the sort of plant one usually only finds at botanic gardens or other places that feature strange and unusual plants. Yet it makes a grand garden plant, rather drought resistant, loving heat and unattractive to deer and bunnies. Come stroll through the Gardens and see what other strange plants you should seek out and try at home!