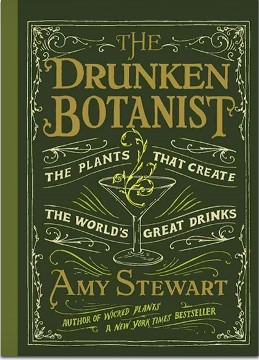 I have observed over the years that horticulturists around the world seem to share certain characteristics. Most gardeners I know love food and are often great cooks. And we do seem to have a fondness for certain...shall we say....hmmmmmmm.....spirits? My brother-in-law, Earl Sampson, gave me a copy of Amy Stewart's latest book for my birthday, which finally explains the phenomenon to me. Of course, practically everything we imbibe consists of plain old water + one or more plants. Of course, a gardener would feel obligated to expend a little more time and energy with certain beverages. You may call it tippling, but we call it research!
And I suspect Amy Stewart did a great deal of constructive research producing her latest witty, informative and charming volume. If you are not yet one of Stewart's throng of fans, this book is apt to tip the scale (as it were) and send you in search of her growing oeuvre, a shelf full of wonderfully retro-looking, attractive volumes filled with scholarship and written with a compelling, rhythmic prose that one would expect of the proprietor (with her husband) of an Antiquarian bookshop in San Francisco (which I assume has become a sort of Mecca for her growing band of admirers).
The Drunken Botanist is classic Stewart. It is the compact size and shape and format that lends itself to the bed stand or (perhaps other smaller rooms in the house, if you get my drift), where most chapters are just long enough to read one or two at a sitting (as it were). Each short section is complete unto itself so you can soon nod off to sleep safely in your bed without feeling compelled to a marathon finish, or have an overly heavy tome startle you by falling on your nose.
The stories! What a wonderful storybook for grown-ups! Who knew so many plants went into liquors and liqueurs! There are concise disquisitions on the usual suspects: agave, wheat, grapes, barley, hops. But who know Maidenhair fern was used to create "capillaire syrup"--a concoction with a pedigree. The book is rife with quaint quotations from old herbals and recipes for drinks primarily, although I was charmed by her sagacious tip for "the Perfect Pastis" which starts with the ingredients: "1 plane ticket to Paris, 1 summer afternoon, 1 sidewalk cafe" and then she explains how to order and properly prepare your drink [it took little for me to summon the shades of Maupassant, Edith Piaf and Seurat (perhaps) strolling past one as one sips one's aromatic drink in the dappled light]. Quel délice!
Although an avid gardener (and an exhaustive researcher), there are a few tiny blemishes that only seem to add a touch of charm to the book. Lavandula angustifolia is not synonymous with Lavandula x intermedia. The former is a parent of the latter in the same way that William Jackson Hooker is not synonymous with Joseph Dalton Hooker after all...albeit both were Regius Keepers of Kew.
But the few solecisms I detected did not diminish my delight with wealth of anecdotes and useful information contained throughout the book.
Many of us were lucky enough to hear Amy speak during a recent Bonfils-Stanton Series when she was traveling promoting her Wicked Plants volume. Amy Stewart is one of the speakers at this year's Bonfils-Stanton Series at Denver Botanic Gardens, so here is your chance to hear her talk about this wonderful book! And you can hear her discussing this latest book on a recent NPR segment that conveys her conversational tone and scholarly depth pretty effectively.
One last trait I have observed most gardeners seem to possess is a love of books. A few may have purchased one of the electronic gizmos some are convinced will make paper books anachronisms before long. But hefting Stewart's compact, reasonably priced but somehow substantial and rich volumes in one's hands, I somehow am not convinced this shall in fact be so.
This year's Bonfils-Stanton Series is designed to INSPIRE you to create the landscape of your dreams with the spark and surprise of a gardener entering into his or her landscape for the first time. Register for the entire series, or just a lecture or tour.