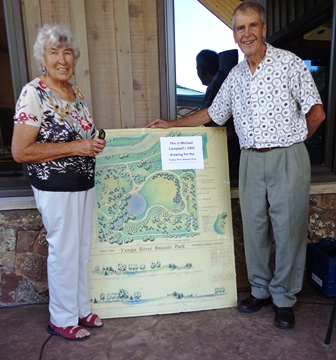 I have already rhapsodized about Yampa River Botanic Park: Denver Botanic Gardens has been lucky to have inspired a whole string of botanical pearls that festoon the mountains and valleys of the Rockies, making for great summer destinations for visitors (and for us to escape the heat!).
This past weekend, Bob and Audrey Enever, who conceived and were the impetus for the creation of one of the best of these gardens were honored by the City of Steamboat Springs with the Heritage award--do click on the hyperlink and read more about these remarkable people and a special award only given every two years or less...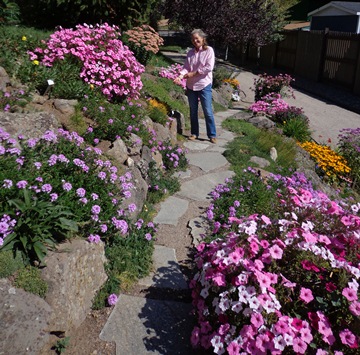 I was amazed that there were still annuals and so much color in September--especially since the Yampa Valley can be very cold and they have had some killing frosts.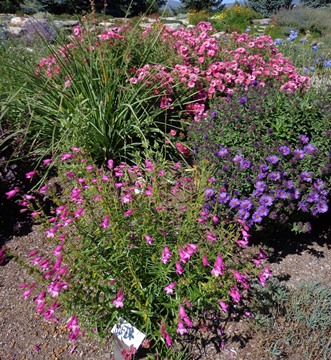 Although there are some "flashy" spots with annuals, most of this botanic garden consists of plantings of perennials--here one of the premier Plant Select penstemons is paired with some flashy asters. This is a Plant Select demonstration garden, and there are many examples of these special introductions throughout. Experimenting with new perennials is a major accomplishment here...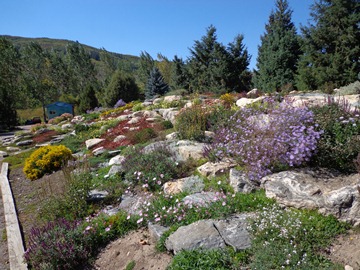 Of course, since alpines are my first love, I always make a bee-line for the rock garden--although truth be said there are rock gardens throughout the site! This is the largest and most ambitious slope, though, always looking fresh and full of color.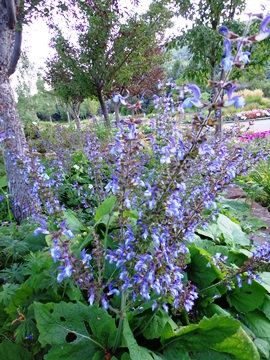 I am always shocked to see how much better plants perform at altitude: I had no idea that this magnificent Turkish salvia was so hardy--it is obviously prospering and covers a whole slope here in the garden. And our's in Denver never look so happy! Now if I can only figure out how to pronounce its Latin name...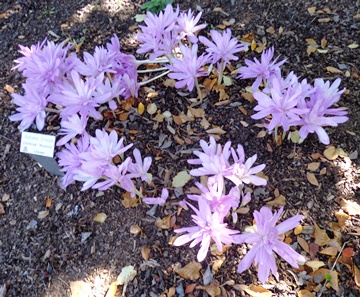 I likewise would have never suspected that colchicums would grow so well at altitude: there were numerous clumps of 'Waterlily'--one of my favorites!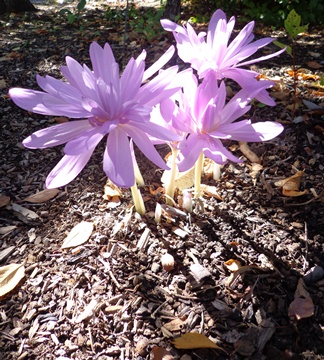 We have wonderful clumps of single colchicums at Denver Botanic Gardens: I think we need to do a swap with Steamboat and get some of their wealth of doubles!
Bob and Audrey requested I be there for the ceremony where they were awarded a gorgeous bronze elk as a token of gratitude to them by Steamboat Springs: Bob gave a gracious talk acknowledging the many people who have worked with them to create the Garden, and asked me to rise at one point thanking me personally for all the contributions made to YRBP by myself and colleagues at DBG.
As the lovely evening went on, I was touched by the generosity of so many folk who have closed ranks with the Enevers over the years to create a remarkable, and beautiful garden. The YRBP is approaching its 20th anniversary in a few years--and I joined Denver Botanic Gardens when the first plantings were only about that old. How much more sophisticated and complex YRBP is now than DBG was then! Although I briefly met Ruth Porter Waring--who like the Enevers helped create a garden from scratch--I was not lucky enough to get to know Helen Fowler, or Saco DeBoer or M. Walter Pesman--or the other pioneers who forged the Gardens where I have spent so much of my work life. So spending an evening when almost all those who first created YRBP were all celebrating together--it was a sort of compensation for that! We here at DBG raise a glass to you, Audrey and Bob! Long may you continue to live and work and enjoy your handiwork!