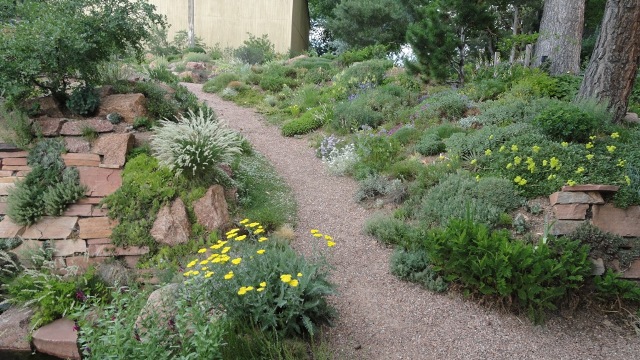 I know fantabulous is probably not in the dictionary, but I can think of no better word than that to describe the magic of visiting a glorious garden at its peak. In ten days the Garden Conservancy is featuring three unique and spectacular gardens in Denver. Click on this URL to get the scoop. You must not miss this! You must put this on your calendar. That is an order strong suggestion! For a description of the gardens click here.
WHY visit gardens?
1) Because your neighbors and fellow gardeners pour their hearts and souls into the sacred space around their homes and trim and primp and fluff in the summer heat to delight you.
2) Industrial espionage: if you visit these great gardens you will learn about wonderful new plants you must absolutely have and wonderful ways to combine them in your garden.
3) What better way to spend a few hours in the middle of the day? You will meet other garden enthusiasts and you will have a wonderful time in our great city!
For a measly five bucks for each garden you can meet great people, experience garden magic and contribute to the Garden Conservancy--a nationwide network of great gardens sustained and preserved by this fabulous organization. And Denver Botanic Gardens is also a beneficiary designated by the Associates--one of our founding organizations that has taken this tour on as their special project.
If you show up, there is a good chance I will see you there. I am not going to miss this, believe me! I will share a few glimpses in the next ten days of the featured gardens, but for this teaser, I could not resist giving you a glimpse of a part of my home garden that was featured on this tour two years ago...maybe next year YOU can share your garden?