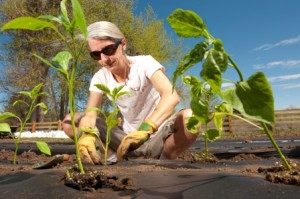 Following 2010's wildly successful inaugural year, the Community Supported Agriculture (CSA) program at Denver Botanic Gardens at Chatfield is gearing up for its second year of delighting foodies across the Denver Metro Area with fresh, locally-grown produce.
Expanding the growing plot from one acre in 2010 to three acres in 2011, the need for volunteer assistance has increased. Volunteers are needed to plant, weed,  wash, harvest, and distribute the vegetables, as well as help transport produce to donation sites. Positions will be available throughout the day on both weekdays and weekends.
Assisting the Gardens' knowledgeable CSA growers is a fantastic way to learn organic practices for growing vegetables and reconnect with the real source of your food (the ground, not the grocery store).
If you are interested in this uniquely satisfying volunteer opportunity, please send an email to vol@botanicgardens.org for more information and to register.