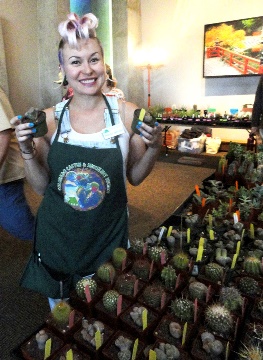 Succulents inspire smiles!
Theresa Mercado, past president of the Colorado Cactus and Succulent Society (CCSS), is smiling with some wonderful new spiny acquisitions. And if you come to the Gardens at 9 a.m. Saturday or Sunday, March 29-30, 2014, I guarantee you that you too will smile at the wonderful variety of form and wonderfully reasonable prices you will find on thousands of cacti and succulents brought by nurserymen from around the region and far beyond!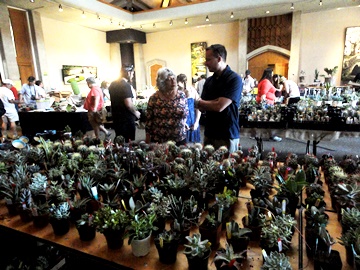 The vast Mitchell Hall FILLED!
It is always a thrill to see the John Mitchell Hall filled with neatly arrayed succulents of all sorts. These in front on the smaller sizes, most of which are available for just a few dollars, but larger specimens are there as well. Every manner and variety of succulent imaginable (and they are pretty lavish in their imaginitive forms!)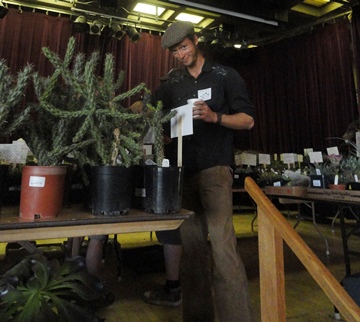 Kenton Seth helping sell
The local succulent society (CCSS) has dozens of enthusiastic members who help stage and conduct this wonderful Show and Sale. Kenton Seth from Grand Junction makes the trek across the mountains just to help educate visitors (and perhaps to purchase a few plants for the xeric landscapes he designs in the process...).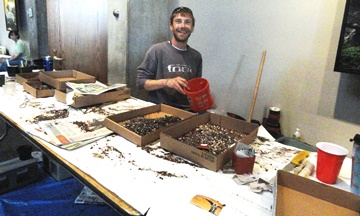 Scott gone to pot
Scott Preusser (former editor of the succulent society newsletter) is here potting newly purchased plants up in show pots--which perhaps will come back next year to compete in the spectacular show taking place next door--click on that last phrase to get an inkling of what else is happening this weekend! Scott is horticulturist at Denver Zoo, and has one of the finest collections of succulent plants in the region--some of which have obtained top prizes at our show! Pretty hefty credentials for a volunteer at the potting bench...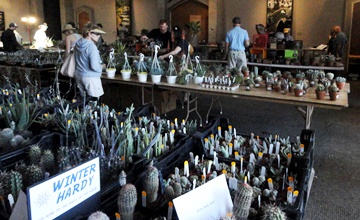 winter hardy
Although a vast array of tender succulents are for sale, there will be five large nurseries that specialize in hardy cacti and succulents bringing their wares. This year, David Salman (who founded High Country Gardens) is coming all the way from Santa Fe with a fabulous assortment of succulent rarities. Believe me, you don't want to miss this sale--which is a sort of kick off of the spring season for many of us!
Remember: as a member of the Gardens, entrance to the Show and Sale are free. For non-members, admission fee also lets you into the show and sale (and you can stroll through the Gardens afterwards and enjoy the early bulbs as a bonus--what a deal!).