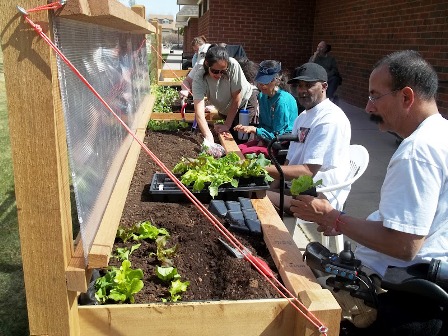 Winter Green, Denver Botanic Gardens winter outreach therapeutic horticulture program, just wrapped up its' 13th successful year. This program offers a wide variety of opportunities for the elderly and people with disabilities to experience horticulture and get their hands dirty during the winter months. We provide creative and stimulating hands-on activities that enrich the physical, mental and social lives of participants.
All new this year we offered an extended program of 3 or 6 sessions called Cool Season Gardening. This program provided facilities a jump start to the gardening season. We had a great time making seed tape for root vegetables, planting beautiful pansy containers, creating salad gardens and planting potatoes! At the end of the program the facilities were delighted to have their gardens all ready up and growing for spring.
Summer Sensory, our summer therapeutic program, will be running from June to September and will offer visitors an enjoyable change of pace in our Sensory Garden. Participants will engage their senses and gain hands-on experience with a variety of plant-based activities. To find out more about this and other therapeutic programs visit our website or contact Horticultural Therapist Angie Andrade Foster at horticulture@botanicgardens.org.