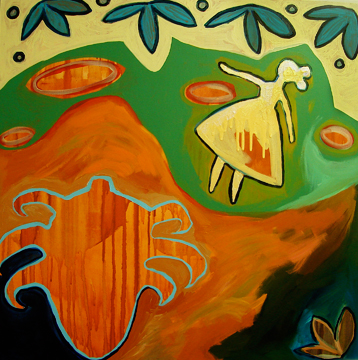 Story Keeper: Works by Melanie Yazzie marks the first of an innovative, year-long look at contemporary Native arts that explore ideas and issues facing today's American Indian communities.
This new body or work created by Melanie Yazzie (Dine, the term Navajo use to identify themselves) tells plant-inspired stories. While colorful and whimsical, her work has serious undertones, and references Native post-colonial dilemmas. She often brings images of indigenous women to the forefront, alluding to matrilineal systems and pointing to the possibility of female leadership.
Yazzie is an Associate Professor of Art at the University of Colorado at Boulder and is of the Salt and Bitter Water Dine clans.
Story Keeper opens tonight, Feb. 9 and runs through May 8 in the Gates Garden Court Gallery at the Gardens' Boettcher Memorial Center.
Opening Reception: Feb. 9, 5:30 - 8 p.m.
Artist Talk: Thursday, March 10, 6 - p.m., FREE
Please RSVP to exhibits@botanicgardens.org