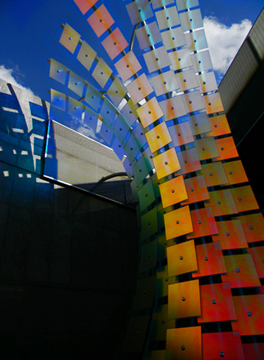 Growing right out of the parking structure's atrium is the newest addition to our collection of art at the Gardens.  Albedo, by New York new media artist Osman Akan, was commissioned in partnership with the Denver Office of Cultural Affairs and was installed on September 18, 2010.
The name "albedo" is actually a general term in physics used to describe the reflectivity of a surface. It is an important concept in climatology and astronomy, as well as in computer graphics and computer vision.
Depending on the time of day Albedo can blaze blue, turn into a series of gold squares or burn down to its base in blushing hues.
This  stainless steel and dichroic glass sculpture has a relationship to the sun much like a plant does. The glass panels are designed to reflect the sun and are angled to catch the light at different times of day.  When I walk by Albedo in the mornings, glowing blue shadows arch on the concrete wall behind the sculpture; during the late afternoon a rosey colored light spills out over the sidewalk. And that's just been over the past month. As we pass through fall into winter and the sun's position changes in the sky so will the reflections of Albedo.
"Albedo has been designed to engage the cycles of the sun with the rhythm of its surfaces as seen from any angle of the viewer....Utilizing natural light, Albedo has an inner rhythm that I hope will capture and extend the moment of its audience's sense of place." -Osman Akan