Check It Out! It's springtime in the Oak Grove. With the weather already warming up in Denver, the Oak Grove is a great place to go and cool down. Stroll through this natural setting and enjoy the shade that the canopy of oaks provides. There are forty-six oaks in this garden including species oaks and hybrids.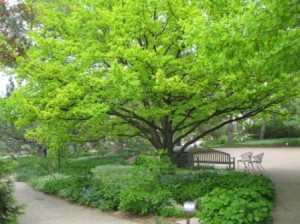 A carpet of sweet woodruff (Galium odoratum) covers the floor, giving off a lovely scent as you make your way around the circular pathway. You will find various under story plants along your journey including Spanish Bluebells, Azalea 'Rosy Lights', ferns, hydrangeas, hostas, heuchera , Golden Japanese Forest Grass (Hakonechloa macra 'Aureola'), hardy figs, epimedium, Pawpaw (Asimina triloba), Siberian Bugloss (Brunnera macrophylla) and many other gems.
This transplanted Kentucky boy gets a little homesick, so I've tried to bring a little Kentucky to Denver. I invite you to come and enjoy my little piece of home.