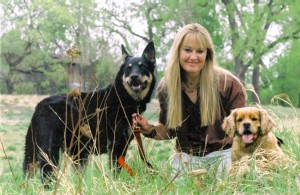 To this date, our most popular post continues to be one that Elizabeth Bublitz of Paw-Friendly Landscapes wrote on 'Paw-Friendly Gardening.' Luckily for us, she is back in blogging mode and sending us new posts! Here is one for those of you who have or want to install a garden fence. If you enjoy Elizabeth's posts, be sure to check out her class on August 13 at the Gardens (visit our calendar page to register!).
Healthy Fences
The number one deterrent of dogs escaping, or wildlife entering, is investing in a fence.  There are numerous types of fence – cedar or vinyl privacy, picket or three rail.  They vary in height as well. 
Many dogs jump up on fences when they are triggered by people passing by, especially dog walkers, squirrels and other "exciting" noises that grab their attention.  However, 6' cedar and vinyl fences lose their upright pitch and can eventually fall or break defeating their purpose.  When dogs jump on the fence, their nails can also get caught in the slats and be pulled out.  What follows is a trip to the veterinarian and many days or weeks of rest. 
The solution to keeping a healthy fence, and in return, a healthy dog, is to provide windows for dogs.  Dogs will stay at ground level to bark at the passer-byers.  They will see out of their ground level window and won't jump and damage the fence.  Their nails will also be spared.  If you own a vinyl fence and cannot create windows, install an "observation deck," such as a high berm or mound in your yard so your Otis can peak over the fence without damaging it or himself. 
To create a window, simply cut out a 3'x3' area (or whatever is comfortable for your dog) and install chicken or sheep wire onto it.  You can be creative and carve a dog bone, dog face, first initial of your dog, or whatever.  Your Otis will not mind, as long as he can see "visitors" and bark at them as they approach his property!  Ruff, ruff!
Tailwaggin' tips:  If you have a multiple dogs or live next to dogs or high foot traffic, it's best to install numerous windows.  Then each dog will have one or your dog can follow the traffic along the fence without wanting to jump!
This post written by Celia Adamec.