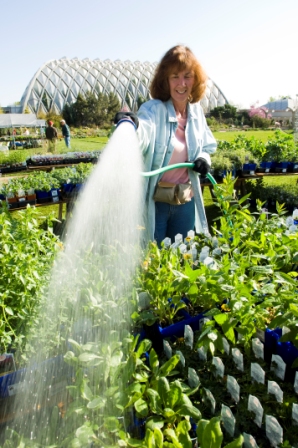 The signs of spring are appearing throughout the Gardens; the arrival of the early blooming crocus, the 60 degree weather, and, of course, the opening of Spring Plant Sale volunteer registration!
The annual Spring Plant Sale will be held Friday, May 6th and Saturday, May 7th. Avid gardeners know that the Spring Plant Sale is an opportunity to purchase rare and unusual plants that may not be available elsewhere. More than 100,000 plants will be for sale including Aquatics, Annuals, Botanic Garden Grown, Perennials, Herbs, Water-Smart, Plant Select®, Hanging Baskets, Rock Alpine, Container Plants, Fruits, Vegetables, and Roses.
Volunteers are needed in the mornings and afternoons of May 6th and 7th to assist shoppers in customer service areas including greeting or directing shoppers, cashiering, cashier assistants, volunteer check-in, plant valets, and lunch set-up. Volunteer benefits include a 10% discount on your plant sale purchase, as well as free refreshments and lunch.
Signing up to volunteer for the Spring Plant Sale is easy: visit https://2011denverbg.theregistrationsystem.com to view all of the available positions online and sign up for the day and time that fits into your schedule.
If you are unable to access our online registration or need additional help or information, please contact Karyn Chaffin at 720 865-3565 or volcoord@botanicgardens.org. Come join the fun and volunteer for the Spring Plant Sale!