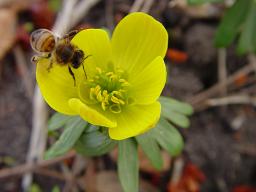 The Gardens are quickly springing back to life with the 70+ degree days.  I was wondering what was blooming across the rest of the country, so I contacted a few colleagues across the nation to see how their gardens were waking up in comparison to Denver Botanic Gardens. 
Denver Botanic Gardens currently has many species of plants in full bloom or just beginning to bloom. Galanthus elwesii (snowdrops), Crocus sp. and cvs., Iris reticulata and its various cultivars, Cornus mas (Cornelian cherry), Eranthis hyemalis (winter aconite) and Helleborus sp. are all blooming. This morning I witnessed some of the magnolias (M. stellata  and M. x soulangeana) starting to burst from their buds in the Waring House garden as well where they grow in a sunny spot against a south facing wall.
In chilly Chicago, Hamamelis 'Jelena' is the only plant flowering at Chicago Botanic Garden. We have several cultivars of witchhazel, including 'Jelena' that aren't blooming currently, but probably already bloomed in late January or early February. Their tiny curly petals are easy to miss if one is not paying attention.
At The New York Botanical Garden, snowdrops, winter aconite, crocus, hellebores, witchhazels and Cornus mas were all blooming before the snow fell earlier this week - a very similar palette to what we've been seeing here. Outside of Philadelphia, Longwood Gardens also reports bloom of snowdrops, winter aconite, Helleborus foetidus, and varieties of witchhazel.
In northeast Florida azaleas, magnolias and tangerine (Citrus reticulata) are blooming now. We usually don't see blooms on our azaleas/rhododendrons until mid-May.
Heading to the West Coast and to the University of California-Davis, daffodils (Narcissus sp. and cvs.), pears and magnolias are blooming.  My friend Shannon who is studying at UC Davis was also able to give me a report from "in the field" as he is doing research in Joshua Tree National Forest.  He saw Eschscholzia minutiflora (pygmy poppy) and E. parishii (Parish's poppy) blooming as well as the ocotillo (Fouquieria splendens) with its bright red blooms. Horticulturists are attempting to grow ocotillo in Dryland Mesa, but I've not witnessed the scarlet flowers yet.
As far as past years go, many of the plants that are blooming currently in the Gardens are within a week of previously recorded bloom dates. There are still many more bulbs, perennials, shrubs and trees yet to bloom this spring!