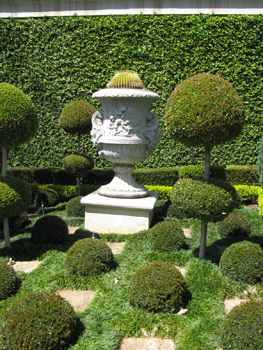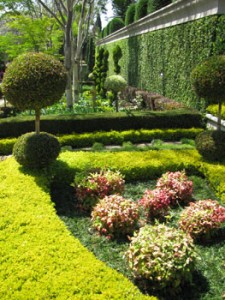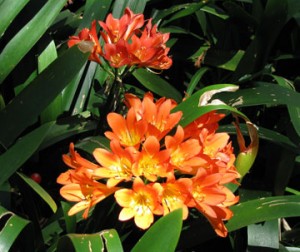 These first two pictures depict a formal garden planted in a neighborhood park not far from the United States ambassador's residence in Pretoria. Never have I seen such meticulously clipped plants in such brilliant, contrasting colors! South Africa was first colonized by Europeans creating a garden to provision ships, and people have come here to garden ever since.
More commonly (as in the third picture) you find gardens featuring native South African indigenous plants like "Bush Lily" the now more commonly accepted common name of Clivia miniata. This brilliant orange Amaryllid comes from the forested areas of the coastal East Cape, but has adapted readily to gardens in the Johannesburg and Capetown areas, where there are even Clivia societies dedicated not only to growing the half dozen species known in the genus, but the hundreds of extraordinary hybrids and color selections that command astronomical prices on the open market.
We were sorely tempted to shell out the five or so dollars for husky gallon potfuls of Clivia being sold at the Safari Garden Centre--but getting them through customs even with soil washed off would be a chore!