Spells of fairly warm winter weather are a hallmark of Colorado's Front Range, providing us lucky residents a great chance to spend some time outdoors when our more easterly neighbors remain oppressed by grey cold.  Conifers are great for some winter greenery both in the wild and in gardens, but don't overlook their more evolved cousins, broad-leaved evergreens.  Like the coniferous sort, broad-leaved evergreens hold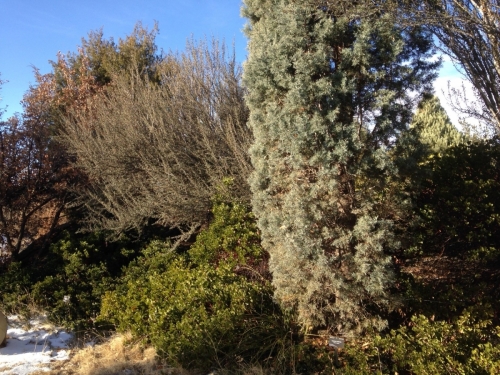 their leaves through the winter.  Unlike the coniferous sort, though, they don't have needles, and so provide a lush texture that belies their hardiness and can make a winter garden a bit more enchanting.
Oregon grape holly (Berberis [syn. Mahonia] repens) and boxwoods (Buxus spp) are broad-leaved evergreens (too) commonly planted in Colorado.  Other options abound!
If you're into woody plants, manzanitas are a great option.  Colorado Manzanita, (Arctostaphylos x coloradensis) is a Plant Select ® Colorado-native hybrid complex (having genetic material from several different species, including the popular and fun-to-say Kinnikinnick).  Several selections of manzanita are available at local nurseries.  One of my favorites (although a bit more difficult to track down) is Arctostaphylos patula (Greenleaf manzanita).  All of the manzanitas are drought-tolerant once established, and like to be grown in well drained soils.  Plant them on a slope or mound if your property boasts our typical clay soil.
A good plant for a shrub border or hedge is Garrya, or Silktassel. Garrya fremontii, Fremont's Silktassel, grows well in some shade and has elegant silvery leaves.  A similar relative, Garrya wrightii, is usually available in the Garden Grown division of the spring plant sale, held annually on Mothers' Day weekend.  It likes more sun, is drought tolerant, and will make a dense barrier with time.
Another Plant Select® option is Paxistima canbyi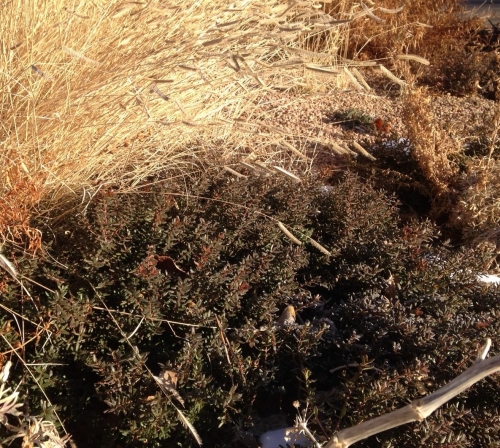 (Mountain Lover).  Paxistima does well in sun or shade and provides a lovely green carpet all year.  Consider lining it out as a border for formal-feeling perennial and annual flower beds—it spreads slowly but is very easy to tame.
If herbaceous plants excite you or if you have a small space to fill, then consider Rohdea japonica, or Japanese Sacred Lily. This is perennial member of the asparagus family has strappy leaves that enjoy some protection from the winter sun, and often large red fruits that persist through the winter.  They need moderate moisture to really thrive, but are tough as nails.  They grow slowly to form clumps that can be divided if care is taken.
Broad-leaved evergreens (as well as conifers) in the garden provide a nice backdrop to summer blossoms.  In the winter, though, they come into their own and can mean the difference between threadbare and charming.  Branch out!