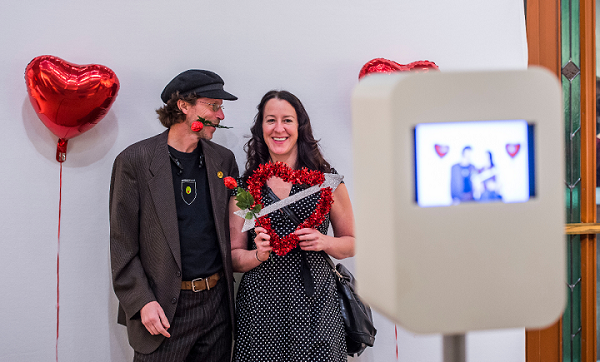 Off the Clock is back – and we're kicking off the 2019 series with a brand-new theme that's sure to stir the senses. At an occasion that's perfect for you and your sweetie (or you and your besties!), guests will dig deeper into the fascinating science of plant love in an environment filled with music, entertainment, and activities.
Meet Gardens Scientists & Our Beekeeper
Learn more about the peculiar properties of orchids from Horticulturist Nick Giaquinto, who has his fair share of experience with exotic plant pollination from our very own Stinky the corpse flower, the Amorphophallus titanum.
Play a pollinator matching game and observe your favorite plants at the microscopic level with our Research & Conservation team.
Sample honeys and learn about the bees that live at the Gardens from Beth Conley of Bee Squared Apiaries.
Put on Your Dancing Shoes!
The big-band swing tunes of Joe and the Spicy Pickles are sure to put a pep in your step all evening.
Between sets, the Diamond Dolls will perform synchronized swing routines and teach guests how to swing dance themselves.
Don't miss the swing dance contest! Hosted by the Diamond Dolls, only the dancers with the most fire in their feet will remain on the floor to the very end.
Date Night Staples
Put your love on paper with a free caricature drawing.
Craft a paper flower or butterfly for your favorite valentine.
Marnie's Pavilion and the Orangery at Their Finest
Enjoy the showy orchid blooms that fill these indoor gardens during our Orchid Showcase. 
Revel in the sweet serenades of Gary Schmidt's piano and romantic accordion duets from Squeeze Play
Food & Drink – The Original Love Potions
Swing by one of our two cash bars for beer, wine or cocktails. Both cash and credit will be accepted at each bar.
Offshoots Café will be open offering its full menu, but it will also feature a specials menu that celebrates the pollination and the season of love. Get yours early, specials may sell out!
So step inside from the chilly February air and celebrate with us in style this Friday! Tickets are limited, so purchase yours today online or at the Bonfils-Stanton Visitor Center. Ticket prices go up at the door.
Looking for a different vibe? Check out our other upcoming Off the Clock events:
Secret Garden
March 1, 2019
A March affair fit for a hare. Step into a whimsical wonderland and let your imagination come to life! Enjoy live music and larger-than-life performers, make your own tea blends, embark on a treasure hunt and explore the Boettcher Memorial Tropical Conservatory after dark. Ponder over curious and eccentric plants with our horticulturists and learn about fungi and folklore from our scientists. Get tickets!
Believe It or Not
April 5, 2019
Seeing is believing…or is it? Join us for an evening of mystery, brain teasers and tongue twisters. Explore the possibilities with a tarot card reader, learn about plants that use deception or mimicry to trick their predators, marvel at performers that have mastered the illusions of their crafts, and interact with Gardens scientists who will reveal plants that offer more than meets the eye. Get tickets!