The following blog post was written by Josh Gold, a Gardens member and proud supporter of Mordecai Children's Garden.
The first time I entered Mordecai Children's Garden, I was taken aback by this hidden gem in the Mile High City. A garden on a rooftop? Yeah, maybe in New York but not in Denver.
As I entered the garden on top of the new parking structure at Denver Botanic Gardens, I thought, "Oh, this is going to be a small garden where my son will be able to look and smell some plants." However, as I walked further in, I saw it was so much more. From bridges, ponds, streams, plants, nature trails and more bridges, this is not your average garden.
This is an adventure in the city. Stroller races on the bridges, digging in the sand, splashing in a stream, playing with the stuffed animals on Marmot Mountain and exploring new plants. Where else can you do this with your kids in one afternoon?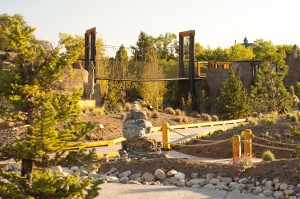 Mordecai Children's Garden not only serves as a place for my son to run and explore but also serves as a place where I know I can watch him grow. Throughout the garden there are little signs which read "Shh, a baby plant is growing," however, these signs should also say, "Shh, a child is growing."
Each time I have entered the Children's Garden, I have watched as my son, Brayden, has grown before my eyes. From the time he giggled as his cousin pushed him around the maze of bridges in the Alpine Meadow to touching and smelling the pumpkin with a volunteer to pointing at the carrots and tomatoes in the Home Harvest Garden, he has made the Children's Garden his own adventure land.
As we enter this week of Thanksgiving, please join me in giving thanks to Denver Botanic Gardens and the Daniel and Janet Mordecai Foundation in having the vision to create a place for our kids to explore and grow. Please join me and my wife in supporting the future of this adventure in the city by giving to the Mordecai Children's Garden Endowment challenge before it ends on November 30.