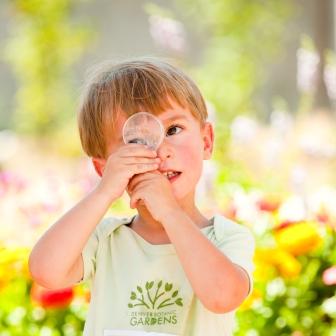 Seedlings classes offer our youngest visitors (ages 18 months to six years) and their caregiver the opportunity to discover plants and nature.  Each week this class explores a new theme with interactive explorations, nature walks and stories. This is the perfect chance to introduce your young child (or grandchild) to the wonders of the natural world. Seedlings is offered for three different age groups and is modified to fit the developmental needs of each group.
18-24 months, Tuesdays 9:30-10:15 a.m. or 10:45-11:30 a.m. - Stimulate the senses through hands-on experiences with nature.
24-36 months, Thursdays 9:30-10:15 a.m. or 10:45-11:30 a.m. - Experience nature through art, movement, songs, stories and the senses.
3-6 years, Wednesdays 9:30-10:30 a.m. or 11:00-12:00 a.m. -  Dig deeper into the subject with fun activities and projects to take home.
Our 2011 winter class schedule is as follows: Great Things Come in Small Packages - Explore the world of indoor bulbs and growing plants even when it's cold outside.   January 18-20, 2011. Fairies and Flowers - Create a special place for fairies of all sizes to live.  January 25-27, 2011. Three Cheers for Evergreens - Explore the green world of these special trees. February 1-3, 2011. I Love Lavender - Discover the smell, feel and color of the lovely lavender plant. February 8-10, 2011. Painting with Plants - Create your own tools from nature to paint with. Make a masterpiece from plants and nature objects you find.  February 15-17, 2011. ABC's of Plants - Explore the alphabet while you wander your way through the world of plants.  February 22-24, 2011. Feathered Friends - Use your five senses to explore the world of birds.  March 1-3, 2011. Rock Hounds - Investigate rocks of many shapes and sizes - smooth ones, rough ones and red ones too.   March 8-10, 2011. Signs of Spring - Get close to the ground to find bright green shoots, spring crocus and other new discoveries that signal the start of spring.   March 15-17, 2011. Cool Season Veggie Time - Take a look at the vegetables you can grow in March - taste them, plant them and enjoy growing your own.   March 22-24, 2011. Watch Out: Plants Can Eat Meat! - Get an up close look at plants that chomp down on bugs and other creepy crawlies.   March 29-31.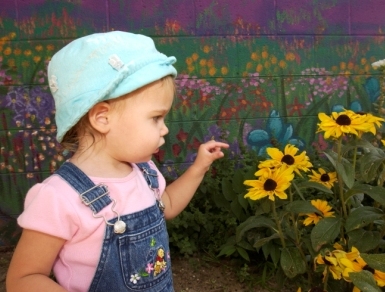 Classes are held in the Morrison Discovery Center with garden explorations in the Mordecai Children's Garden and the Morrison Discovery Greenhouse.   Pre-registration is required.  Families can register for individual classes, although a discounted package rate is available if you sign up for all 11 classes.  For more information on any class or to register, call 720-865-3580.