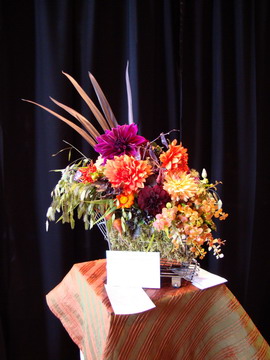 I never cease to be surprised by the remarkable exhibits and special displays that are being staged at Denver Botanic Gardens on a weekly basis: one day I walk into the gardens, and Gates Court and Gates Hall are filled with the most amazing flower arrangements and plant exhibits imaginable: the Garden Club of Denver staged a one day show with the most exquisite arrangements imaginable, staged with great artistry and elan (as one would expect of this Club: this group is an engine that has provided much of the push and savvy that created Denver Botanic Gardens in the first place --Mrs. James Waring, our benefactress was a member after all--and the Club continues to support and help guide us to this day). If you didn't happen to walk through that day you would have missed it.
A few nights ago I strolled into a Digital Art extravaganza taking place in Mitchell, Gates Court and Gates Hall again with multimedia computer images on the screen generated by complex algorithms and the dueling hands of the artist/scientist creators: although I regard myself as a quasi-Luddite and genuine Philistine in this sort of endeavor, I found myself being sucked in and loving it. What a delight to see throngs of young people enjoying themselves, creating LED corsages of jet-age flowers, and sipping donated beer and South African wines.
Next Sunday, Sept. 27, the Gardens will be staging a special Tea Ceremony event at 1 p.m. and again at 2 p.m. This will be guided by the new Japanese Tea Ceremony Guild: Ebi Kondo tells me that if you experience a tea ceremony, you will understand Japanese gardens and Japanese culture on a whole new level: perhaps you will find out about this afterward too?
The next week (Wed., 7 p.m., Sept. 30,), Richard Louv will be doing a special presentation at the University of Denver sponsored by the Barton Foundation that will illuminate the profound depth of thought and vision underlying the creation of our new Children's Garden: Louv's Last Child in the Woods was a New York Times Bestseller because it revealed the significance of providing children with access and time in natural settings. Although free to the public, reservations are required. You can register online at www.universitycollege.du.edu or call Denver Botanic Gardens at 720-865-3506.
So stay tuned: there are sure to be many more secret wonders every week though the calendar year! To paraphrase Miranda, "O Brave New World that hath such flowers in't"!