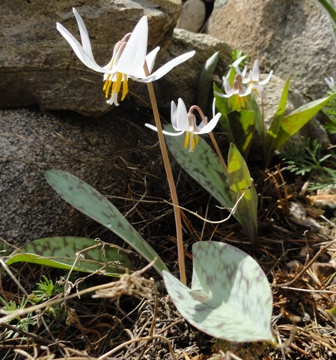 There are so many spectacular vistas at Denver Botanic Gardens this time of year: the O'Fallon Border bursting with thousands of tulips, the Lilac Garden ablaze with purple and white, with masses of irises and peonies coming into bloom: visitors can hardly be blamed for keeling over with the superabundance of images and beauty...and yet, some of my favorite things this time of year are tiny vignettes that are easily overlooked when one gazes as the vistas. The tiny white fawn lily (Erythronium albidum) growing on the north slope of the Rock Alpine Garden enchants me every bit as much as the overstated drifts of color. How many visitors overlook it, since it's tucked under the giant rocks in that garden?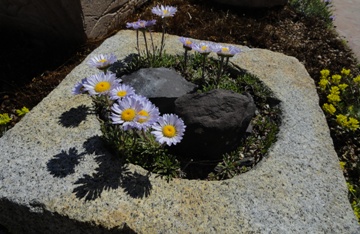 This is peak season for the giant troughs in Wildflower Treasures. You can get a wonderful preview of the alpine summer this time of year in these gardens.  I especially enjoy watching how plants growing in the troughs seem to practically climb out and have spread around the troughs on the ground. There is far more of this Townsendia ranging free around the bona fide stone trough  pictured above, but notice the tracery of shadow on the granite: shadows can be as rewarding as the plant itself!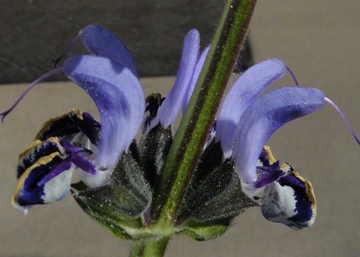 But I save the best for last. Do take a minute on your next visit to examine the extraordinary blossoms on the extravagant Salvia indica around the main entrance to Denver Botanic Gardens. Dan Johnson researched and obtained this last year, and this is its inaugural year in Colorado horticulture. I have no question that this magnificent plant will soon be a mainstay of local gardens. I wonder how many of the tens of thousands of visitors these last few weeks even noticed it blooming...such are the secret treasures that abound here at Denver Botanic Gardens! Keep your eyes peeled...