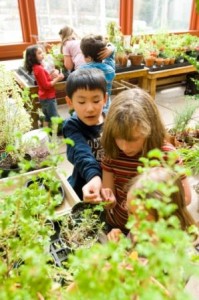 Throughout the last week or so, shouts of joy have come from thousands of children across the city as they celebrate the end of school.  Now that summer is starting to sink in, some parents may begin to wonder "what am I going to do with them all summer!"
Denver Botanic Gardens has your answer – our week long Garden Camps offer a fun and educational way for kids to spend the summer.   Each week we explore new plant and garden related themes with garden explorations, hands-on activities and projects that you can take home.  Kids may spend one day investigating plants of the desert southwest, another cooking tasty snacks from edible plants they've discovered in the Gardens and yet another painting a garden scene.  Every single day all summer long offers something new for kids to do.
Our 2010 Garden Camps include:
Gardens around the Globe – Join us for a whirlwind journey around the world in five days.  We'll travel to a new location each day, exploring the food, plants and ecosystems from a variety of far-off places.  July 26-30, ages 6-12.
KidCamp – Discover the wonders of the plant world as you plant, paint, eat, dig and discover your way through the Gardens.  Each week has different themes and activities.  July 12-16 and July 19-23, ages 6-12.
Art Romp - Let your creativity bloom as you explore the artistic process through a wide variety of art projects and hands-on exploration of the Gardens.  June 21-25 for ages 12-15, June 28-July 2 for ages 6-11.
Garden Camps cost $229 for members and $249 for nonmembers.  Before and/or After Care is available for an additional fee.