[caption id="attachment_4526" align="alignleft" width="245" caption="Selastophorus rufus on trumpet vine (Campsis radicans) by Natalia Zuber, 2010"]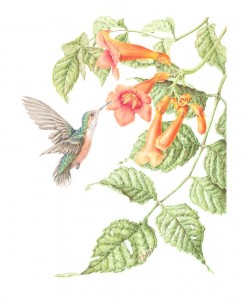 Botanical Interests' Illustration Scholarship Program:
Denver Botanic Gardens' Botanical Art and Illustration program will award at least two scholarships annually for talented new students. The scholarship covers tuition for one required class within the Program and includes a starter kit and class materials for the course. The awards are determined on a competitive basis and require the submission of a portfolio and Artist's Statement.
For more information, please click here (pdf).