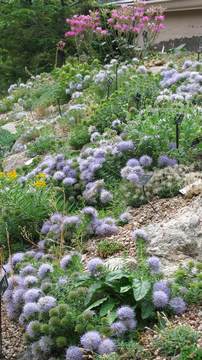 [[{"type":"media","view_mode":"media_large","fid":"8822","attributes":{"class":"media-image","typeof":"foaf:Image","style":"","alt":"Trachelium rumelianum"}}]]
There's never enough blue in the garden, as far as I'm concerned. Others must feel the same way: otherwise, why do we make such a fuss over giant blue delphiniums, gentians and meconopsis? The far flung and varied clan of Campanula are among the most giving of blues in the garden. In this vast and (in my opinion) terribly underappreciated family, there are some strange creatures, none stranger or more beautiful than a late summer blooming campanula cousin from the mountains of Northern Greece and the Balkans called Trachelium rumelianum or T. jacquinii v. rumelianum. You may wonder what the common name is. This plant is frankly so rare and little known in cultivation that I don't think it's ever had a common name coined. I'm tempted to call it sapphire sphereflower because the blooms are spheres, and many approach sapphire in their brilliant coloration.
Right now this rather unusual plant is putting on a stellar show on the north side of what we used to call the Alpine House, and now is the Cactus and Succulent House, on the west side of the Rock Alpine Garden. In nature, this strange campanula relative invariably grows in the tiny crevices of limestone cliffs. Botanists describe plants that must grow in rocks as "obligate chasmophytes": i.e. they are "obliged" to grow (phyte) on chasms. Due to the dry air and relative lack of rain in Colorado, we are often able to grow chasmophytes successfully in open soil, even on level ground. From the picture you can see that the Trachelium loves the steep slope and good drainage of the north facing slope where it's growing. It has in fact produced dozens of seedlings which Mike Kintgen, who oversees the Rock Alpine Garden, judiciously improves by removing pale flowered individuals. The hundreds of luminescent blossoms, nearly two inches across, last much of the month of August. They make fine boon companions to a random seedling of orange butterfly weed in their midst, and the magenta of hardy Pelargonium (P. endlicherianum) nearby.
I do not know a single commercial source for this plant at the present time: our plants do produce abundant seed, and some of the local rare plant nurseries have been experimenting with them, and I hope that it might one day be sold at Denver Botanic Gardens Spring Plant Sale. There are literally thousands of kinds of plants blooming at Denver Botanic Gardens right now, and this one may be one of my two thousand, five hundred and eighty-nine favorites. I, for one, could use a little more blue in my garden.