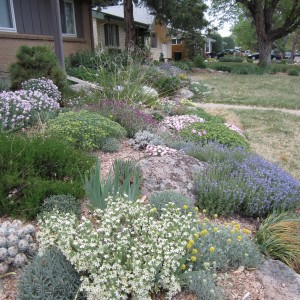 Rock gardening and xeriscaping can offer solutions to the bland stereotypes associated with water savvy landscaping. And with Colorado's natural drought cycles, we should all be considering ways to encourage water conservation. Rock gardens are more than the name implies. Instead of being a garden of solely stone, they are in fact a tool for bringing a vignette of nature's beauty and diversity to the home garden.  Few garden styles attempt to emulate the rocky outcrops, mountain sides and buttes found throughout the world's wild areas whether it be a rocky seaside outcrop or a rock outcrop on a 14,000 foot peak in the Rockies.
Drawing on the largest plant palette available to humankind, there are rock garden plants for a wide variety of areas - those that never receive supplemental irrigation, to those that are fine with weekly irrigation and even those that crave water.  No matter what the water situation, there are rock garden plants for every garden.
Many of the traditional and newer rock garden plants available in the trade come from the world's steppe and continental areas, adapted to long hot dry summers, and cold dry winters.  Many of these plants relish any extremes Colorado's weather throws at them - whether it is the 70+ days of 90 degrees or more last summer or the 7 degrees in April this year.  The rock gardens at Denver Botanic Gardens and at my home look good despite these challenges.
Rest assured no matter what weather extremes come in the future, rock gardening can be a great solution and offer a garden style that looks good year around.
If you're interested in jazzing up your landscape with some innovative and beautiful rock gardening suggestions, join Mike for his class, Rock Gardening in the Rockies, on May 16 and 23rd.   The class will look at the history of rock gardens, see living examples of rock gardens at the Gardens, talk about design aspects and do a trough planting demonstration.
Guest Blogger: Mike Kintgen
Mike is a Colorado native with a degree in horticulture from Colorado State University.  He has worked at Chicago Botanic Gardens, Rhododendron Species Foundation and has been involved with Denver Botanic Gardens since he was 12 years old.   Rock Gardening has been a special interest of his for 20 years and he is the current president of the local rock garden society.