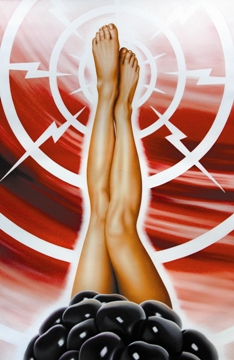 Like a group of Sirens, the pastel paintings of Riva Sweetrocket beckon to be admired. Her large canvasses fill with feminine images that intertwine with nature: the curve of a leg intersects with a pile of juicy cherries; feet envelope a pair of dusty butterfly wings.  Sweetrocket elevates these organic elements to a luscious transcendence of synergy that speak to the majesty of nature and human existence.
"As a woman I have an inherent appreciation of the female perspective and my protagonist is often female. I also see nature as having feminine qualities, so these two elements seem to work synergistically together. Color and composition are important to me as well. My aim is to create eye-popping images that I, myself, will want to gaze at and I hope others will too." -Sweetrocket
Sweetrocket is an award-winning, local contemporary artist whose work consists of large-scale soft pastel paintings on paper.  The Gardens hosts Riva Sweetrocket | Extra Ordinary in collaboration with the Plus Gallery, Denver's leading contemporary arts gallery, from Nov. 20, 2010 - Jan. 23, 2011 at Gates Garden Court Gallery.  Come admire Sweetrocket's work during the Gardens' normal hours (9 a.m. - 5 p.m.).
Reception: Thursday, Dec. 2, 2010 from 5:30 p.m. - 8 p.m. RSVP to exhibits@botanicgardens.org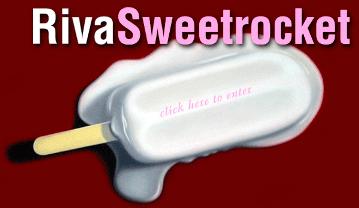 Can't get enough? Click on the melting popsicle above to visit Sweetrocket's website, or read a review of her work in issue 16 of www.denverersyntax.com.