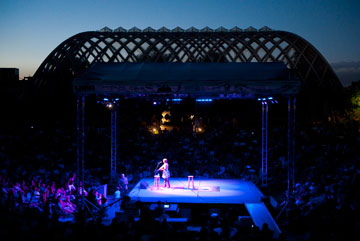 Our concert season is over for the year, however this blog entry should bring back some great memories of the York Street Summer Concert Series. Feel free to share some of your own memories with our audience after you read this. Last year I noticed a couple up and dancing in front of the stage at most of the concerts, and I had the opportunity to meet these music enthusiasts. Rick Hum and his wife, Karen, longtime members of the Gardens (along with their loyal group of friends),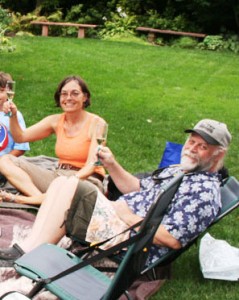 attend most of the concerts together. Rick was kind enough to send me his great personal reviews of the 2009 concerts, which I posted here last year. I received lots of positive feedback from visitors on that blog entry, so I asked him if he could share his reviews of the 2010 concerts with us. From Rick Hum:
There was much speculation and curiosity about how this year's Denver Botanic Gardens Summer Concert Series would stack-up against past years with Swallow Hill doing the booking. The summer got off to an ominous start with the notice that the Los Van Van concert was being cancelled.
The Chick Corea Freedom Band was a remarkable evening. Corea played only the grand piano and was rather restrained during others' solos. Kenny Garrett was up-front and present playing very strong saxophone leads. Christian McBride is a Grammy-winning bassist; you can hear why he is in high demand with artists such as Sting and Pat Metheny. Roy Haynes was very resplendent in his zebra stripped jacket. Haynes has a long, impressive pedigree. He sure seemed to be having a great time and his little scat-ditty at the end of the show seemed to truly take the other band members by surprise. The only part of the night that was disappointing was the half-filled audience. It's embarrassing that a music-savvy city like Denver doesn't pack the house for a quality act like this.
Steve Martin and the Steep Canyon Rangers did draw one of the biggest crowds of the season. Steve Martin is a well-known "wild and crazy guy," but the combination with the Steep Canyon Rangers was remarkable. They played much of Steve Martin's first all-music album, "The Crow: New Songs for the Five-String Banjo" (as well as his long-ago novelty hit, King Tut). Martin wrote and arranged every song for Crow, recording it with the help of such bluegrass stalwarts as Earl Scruggs, Vince Gill, Dolly Parton and Jerry Douglas. The project won the Grammy for best bluegrass album and spent 30 weeks at No. 1 on Billboard's bluegrass chart. The Steep Canyon Rangers are all excellent musicians, especially the fiddle player. Their vocal harmonies are also excellent. Steve Martin's humor (although scripted) and his amazing playing, including the very difficult clawhammer technique made for a entertaining evening of music.
The Natalie Cole show was "unforgettable." She looked and sounded wonderful. The show was a nice mix of her well-known music from her great comeback album, "Unforgettable," and some of her newer music. Natalie Cole is the daughter of crooner Nat King Cole and former Duke Ellington Orchestra singer Maria Cole. Natalie Cole had major setbacks after an early, promising career with Grammy honors and nominations. But with her new career, she has overcome many demons. She talked about loosing her sister on the same day she was going through kidney transplant. Her band was outstanding; her voice was beautiful and strong. The duets with Nat King Cole sent collective goosebumps thorough the crowd.
Glen Campbell was the one show we did not buy tickets for. From what we heard, it was a surprisingly good show. The band included many of Glen Campbell's family members. Glen's voice is pretty strong (for his age) and the crowd could remember and sang most of the words to many songs, not just "Wichita Lineman" and "Rhinestone Cowboy." 
The Jamie Cullum and Gin Wigmore concert was a wonderful, surprisingly good show. Gin seemed a little shy on stage. She only had two musicians with her, but her voice has a very strong, promising quality. Her CD "Holy Smoke" shows more of her ability with a full band. Jamie Cullum is a very popular 30 year-old English Pop/Jazz singer and pianist. He certainly is not shy; he had amazing energy and stage presence. Much of his music is taken from jazz standards played well with a great band. His own music is very creative and well done. He is an excellent pianist, an accomplished vocalist and a great, up and coming jazz artist with the spirit of a rock and roll star. This was the best lesser-known artist's show of the year.
Mary Chapin Carpenter with Dar Williams was a show with high expectations. Dar Williams is an accomplish songwriter and folk singer, but the crowd was anxious to see Mary Chapin Carpenter again. Shortly after her last performance at the Gardens, she was stricken with a pulmonary embolism. Following a long recovery she has now released "Age of Miracles."  MCC's voice is still beautiful and full; her band very supportive. Her strength seems to be in her fine lyrics and the music she writes to deliver the poetry. The show was a very good performance, but was not the miracle show some of us hoped to see.
Joan Armatrading with Karla Bonoff. Bonoff and guitarist Nina Gerber made their duo debut, since longtime sideman Kenny Edwards was too ill to perform. (At a subsequent concert Marc Cohen made mention of Kenny Edwards and asked us to all send our best wishes to him for a full recovery.) Joan Armatrading is an outstanding artist and person. She has supported many worthy causes including partnering with her friend Nelson Mandela. Joan Armatrading plays all instruments except the drums on her CDs but in concerts she concentrates on her guitar work and vocals. She played much of her latest release "This Charming Life." She is known for her distinctive vocals, but what is interesting in the intimate setting of the Gardens is the amazing versatility in her guitar work. She played in many different styles and manners, each extremely well-executed and with apparent ease. How can anyone play two different parts on the guitar and sing a totally different melody at the same time? What a talent!
Best show of the year from our perspective. Leo Kottke 
Sam Bush was the third cancellation of the year [Nanci Griffith cancelled due to illness]. Many of the audience were disappointed that Nanci Griffith cancelled, but for us Leo Kottke was the main draw. Kottke is probably the most talented American acoustic guitarist. His style is unique and his technique impeccable. Between his songs he mixes dry, witty humor and adds his strong tenor voice to many of his tunes. Sam Bush is a fine, accomplished mandolin player. Sam and his band topped off the evening with very good, high spirited bluegrass. The players in the band are well balanced and Sam Bush plays fiddle almost as well as his incredibly clean mandolin work.
Marc Cohn and Kathy Mattea was another high energy, highly anticipated show. Kathy Mattea is a self-professed hillbilly, recovering country western singer. She is a very good singer and performer / songwriter. She was kind to interrupt herself to help celebrate Monica's birthday and the large fly-away butterfly balloon. Marc Cohn returned for his third performance at the Gardens. He told great stories about the various songs he played including a good deal of detail about being shot in the head in a botched carjacking [in downtown Denver, not at or near the Gardens] the night after his first time performing at the Gardens. They played most of Cohn's standards, and many cuts from his new release "Listening Booth: 1970" which revisits many songs written by a variety of artists in 1970. Marc Cohn is a fine musician and performer; quietly behind his stage presence is Shane Fontayne, an outstanding guitar player--12 years with Marc Cohn and previous work with guys named Sting and Springsteen.
Béla Fleck, Zakir Hussain & Edgar Meyer provided a wonderful evening of innovative and creative music. Béla Fleck is generally considered the premier banjo player in the world. Zakir Hussain is a classical tabla virtuosa of the highest order and widely considered the chief architect of the contemporary world music movement. Edgar Meyer is a prominent contemporary bassist and composer. Each are accomplished musicians that blend their individually talents with remarkable synergy. Zakir uses every finger to create amazing sounds from the tablas. The way Béla's banjo blended with the tabla, it sounded more like a sitar. For some, their music may have been too fanatic, but for most it was wonderfully entertaining – even with the rain. This was the last show of their current tour and they seemed to really enjoy each others music and company. This was the World Music show of the year.  
Shawn Colvin & Loudon Wainwright III provided a fun and entertaining conclusion to the Summer Concert Series. Loudon Wainwright can appear to be the grooviest ballad singer to survive four decades of entertaining, remaining an inventive and artistic song writer and performer. His new work, "Songs for the New Depression," is a wonderful opportunity for us to look and laugh at our current economic condition. Shawn Colvin, a frequent performer at the Gardens, is always enjoyable. When you see the muscle development in her right forearm, you know that she spends many hours each day with her guitar. She blends fine song writing with beautiful guitar work. We had a wonderful summer of music. Thanks to all the membership staff and volunteers who continue to ensure the quality experience at these shows. The music was very good, but a little too much banjo and mandolin for us. We don't want to see these shows become the "Grand Ole Botanic Opry." Denver Botanic Gardens is the very best of outdoor summer concert venues. We hope the fine traditions and music will continue for many years.
And here are some great tips that Rick sent me last year:
Making the most of your concert experience at Denver Botanic Gardens. The intimacy of the grass bowl, the staging, the comfortable listening and the opportunity to bring your picnic dinner and beverages make the concerts at the Gardens a wonderful opportunity. There are some members of the Gardens that have taken concert-going beyond the simple picnic and two-hour concert. Here are some suggestions to maximize your Gardens concert experience next year:

Get in line early. This provides best concert seating but also allows time to enjoy pre-concert activities.
Meet and make friends with others who come early and are in line.
Bring champagne [York Street only] and hors d'oeuvres. This increases your pleasure and helps you make friends.
Use your membership to walk in the Gardens during the afternoon [York Street only].  Once you've made friends in line, taking a little time to visit the Gardens is usually no problem.
Create a friendly and considerate culture among concert participants and those in line.
Bring rain gear and umbrellas, just in case.
Eat a light dinner before the music starts.
Get up and dance!