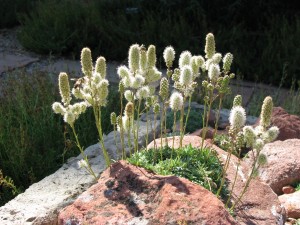 The hacks of advertising and popular culture deem that the "common person" has a very low I.Q., Hence the fear of "elitism" and a desire to aim at the lowest common denominator. On the other hand, you must admit that there is a basic yearning for the rare, the unique, the recondite*. Hence treasure hunts,diamonds, unicorns and rare book rooms at libraries. For some of us the obscure, the novel and the strange invariably trump the common, the ordinary, the humdrum. I guess I have to admit I'm at elitist!
Early September boasts its share of recondite treasures. Some, like the western rock spiraea (Petrophytum caespitosum) are widespread plants in nature, clinging to limestone cliffs from British Columbia to Mexico. You can find this quite a few special places in  Colorado, but most wildflower lovers miss it because it blooms so late, and grows on relatively inaccessible cliffs. You can find this perfect specimen, however, growing in the Glenwood Springs trough in Wildflower Treasures at Denver Botanic Gardens, looking just as it does by the tunnel on I-70 just east of Glenwood Springs. Only for most of us, it's a shorter drive to the Gardens. I can't think of another public garden anywhere on earth with such a perfect specimen: I think that qualifies as recondite:
Dictionary.com defines recondite as:
1. dealing with very profound, difficult or abstruse subject matter: a recondite treatise.
2. beyond ordinary knowledge or understanding; esoteric: recondite principles.
3. little known; obscure: a recondite fact.