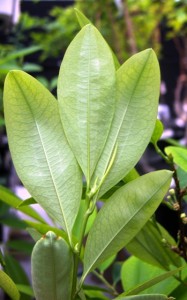 With nine staff scientists and seven Adjunct Researchers representing diverse research interests and educational backgrounds, the Research and Conservation department has many stories to tell.  Join us on Wednesday, May 9 at noon in the Waring House for the next installment of our departmental lecture series "Re-search the Gardens: Meet our Scientists."
Dr. Melissa Islam will share some of the research she conducted as part of her Ph.D. work on the genus Erythroxylum, best known as the genus from which coca originates.
Melissa will be presenting: Tracing the Cultural and Evolutionary History of Coca.
"Humans have exploited plant secondary metabolites for thousands of years as poisons, medicines, cosmetics and insecticides. Cocaine is no exception. The drug cocaine is a modified version of the chemical present in the leaves of two cultivated species commonly known as coca. For over 8,000 years, the leaves of coca have been used as an integral part of the medicinal, cultural and religious life of certain peoples in South America. Learn how this humble South American shrub has passed from nobility to condemnation as we trace its botanical, medicinal and evolutionary history."
The bi-monthly series presented by our staff scientists and adjunct researchers takes you behind the scenes and out into the field to share the stories of the species with which we work and the amazing areas we visit as we conduct our research.
Please join us for this informal seminar series as you're always bound to learn something new. All talks are free with admission to the Gardens and are presented at noon. Feel free to bring your lunch. To read more about the series visit our web page.