Have you ever wondered about all the exciting research that goes on at the Gardens? Now's your chance to delve in and learn all the ins and outs of research while simultaneously helping Denver Botanic Gardens.
The Gardens is offering a rare plant monitoring training session on Saturday, June 8 from 8 a.m. – 4 p.m.  Rare plant monitoring stewards help to conserve Colorado's rare and native plants through a cooperative program by Denver Botanic Gardens and the Colorado Natural Areas Program. In this program volunteers will receive extensive training, work with botany enthusiasts and professionals, become citizen-scientists, and collect data needed by land managers to protect rare and federally listed plants. You will learn about rare plant monitoring theory and practices that can be applied to assisting conservation agencies in the field.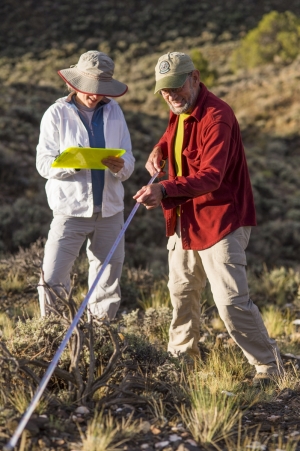 Registration fees will cover training materials, breakfast and snacks. Please pack water, a lunch, and dress in long pants, sturdy shoes, and sun protection. Participants will receive classroom training followed by field training at the Park Creek Hogback near Fort Collins on Saturday; we will travel from Denver Botanic Gardens to Park Creek Hogback at 11 a.m. We will complete the field portion at Park Creek Hogback at around 4 pm. Some carpooling between the Gardens and Park Creek Hogback will be available. Trainees can apply to become a rare plant monitoring Steward after attending the training. Get more information and sign up online.