It seems far fetched to think that winter is on the way--especially now that we're sweltering in Denver--but one of the features of the alpine tundra is that summer is never more than three weeks away!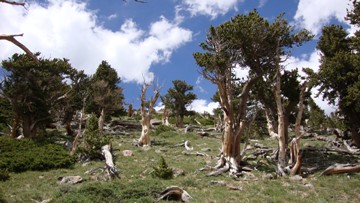 Bristlecone pine forest on Mount Goliath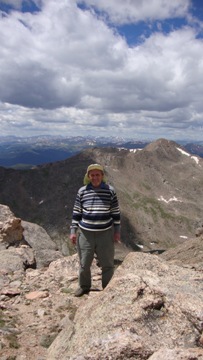 Vladimir Kolbintsev on Mount Evans summit
We were lucky to have a visit by Vladimir Kolbintsev, an outstanding naturalist from Taraz, Kazakhstan. He showed Mike Bone and me around the Altai and Tien Shan mountains last summer, and this year we had a chance to reciprocate. Here he is twelve time zones from his home in Central Asia!
Allium pikeanum on Mount Goliath
One of the many things that I love so much about our tundra is the enormous variety of scale: look up and you can see much of Colorado at your feet. Look down, and a tiny alpine, like this miniature onion, beckons. This miniature is sometimes considered a variety of
Allium geyeri
, but I think it is different... 
Dead bristlecone on Mount Goliath
One of the things that amazes me on Mount Goliath are the ancient dead bristlecones. Incredible to think many have been dead and standing for centuries perhaps. What toughness! I wonder how old some of the tiny alpines must be, like the dazzling blue alpine forget-me-not you can still find blooming on the summit (although it bloomed for me in Denver way back in March!)
Alpine forget-me-not (Eritrichium aretioides) on Mount Evans summit
On the way home, I know a special spot where there are masses of dwarf cornel, a rather rare woodland gem in the state, growing right near the highway.
Dwarf cornel (Cornus canadensis) on Squaw Pass
A trip up to Denver Botanic Gardens Mount Goliath site is the perfect escape for a hot summer day! But those days are slipping away...