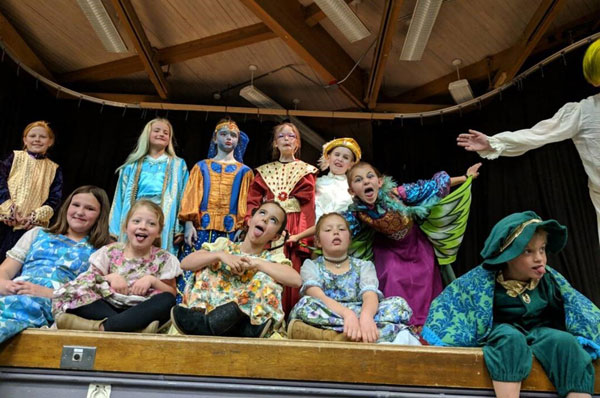 Calling all young aspiring actors! Gardening and performing arts come together to spark creativity and imagination in this new five week program series designed for children ages 5-10. Participants use Jeffery L. Schatzer's book "The Runaway Garden" as creative inspiration to create an ensemble-based improvisional play. In this humorous tale, tomatoes stew and stir, berries get into a jam and peas split as a group of vegetables come to life, leave the farm and explore the big city.
Teaching Artist Larry Mitchell, who holds an MFA in playwriting, brings out the creativity in each aspiring actor as they collaboratively create, rehearse and perform a play. Throughout the program series children engage in team-building games, acting exercises and movement activities. Participants are challenged to "seek out the potential for magic within their own homes" as they design their own costumes with items they find at home. That's really what this program series is all about: seeking out the magic within to create a story and express oneself. 
An actor needs two tools to tell great stories: their voice and their body. Costumes, props and a stage all help, of course, but Play On! teaches children the tools to create stories so their voices can soar. Theater is even more magical when explored outside among nature in the tranquil environment of Denver Botanic Gardens. Play On!
Play On! is a locally owned and operated small business that encourages Denver-area school age children to explore their passion of the arts. Play On! offers highly collaborative performing arts programs using a hands-on creative approach that allows for a student to find their voice on the stage and beyond.
2019 Session Dates:
Tuesday, March 12 - 10-11:30 a.m.
Tuesday, March 19 - 10-11:30 a.m.
Tuesday, March 26 - 10-11:30 a.m.
Tuesday, April 2 - 10-11:30 a.m.
Tuesday, April 9 - 10-11:30 a.m.
Space is limited, so register today!
This blog post was written by Rachel Greengard Galt, Founder and Artistic Director of Play On! Executive Arts.