Almost universally, pizza is everyone's favorite food, hands-down. In the United States alone, Americans eat 100 acres of pizza each DAY! That's the equivalent of 3 billion pizzas a year. That doesn't even count the people who make pizza at home (and I'm not talking about the frozen kind, folks). Perhaps one of the reasons that people love pizza so much is that it is so versatile. You can put almost anything on a pizza. Pineapple? Sure. Basil and tomato?  Why not. Olives and artichokes? Absolutely! 
It's not just the toppings that make pizza delicious. Everyone loves a good crust, be it thick, thin, Chicago or New York style. And we can't forget the sauce. Good or bad pizza sauce can make or break a pizza, in my opinion. But what exactly is in pizza sauce and crust? Find out at our Plants in Your Pizza Family Workshop. In this workshop, you will discover the plants that make this favorite dish possible. You will get to make and taste fresh homemade pizza and kids will plant a pizza herb garden to take home so you can continue your culinary adventure later.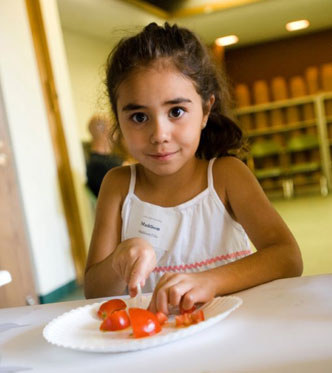 Family Workshop: Plants in Your Pizza
Monday, Jan. 15, 2-3:30 p.m.
Register today
Family Workshops at Denver Botanic Gardens are a great way for families to spend time together while discovering the beauty, diversity and importance of plants. Workshops offer families a hands-on opportunity to learn about the science and enchantment behind the plants in our everyday lives, create tasty treats from scratch and explore the natural world. Classes are designed for families with children ages 5-10. Preregistration is required and class size is limited. All adults attending the workshop must register for the program. Non-participating siblings do not participate in the activities. Here are more Family Workshops.