Glade Mallow (Napaea dioica)
I grant you the flowers are not gigantic--an inch across if you're generous. But they are produced in profusion for a long season (that's good isn't it?) and the plant itself is restrained...if rather large: here's the same clump that's blooming now the way it looked a month ago: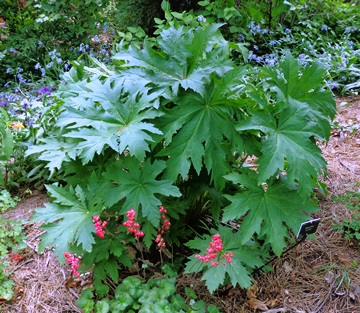 Glade Mallow (Napaea dioica) just the foliage
The first time I really noticed this I thought it had an uncanny resemblance to Philodendron bipinnatifidum (better known as P. selloanum), that classic Victorian house plant. Only of course, this is a native American wildflower which has a rather limited distribution around the Great Lakes. There it usually grows in moist swales ("glades"--hence the common name) in sun--but here in Colorado we have found it does best with some shade in a good, deep garden soil with consistent watering: this is not a "Xeriscape" perennial. But neither does it need to be constantly wet! Incidentally, the specific name (dioica) indicates the plant is dioecious--each plant is either male or female. Which may explain why we never collect seed!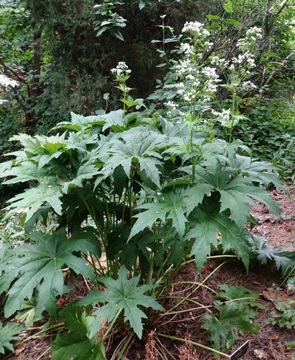 Glade mallow in bloom
My last picture is of the same clump in bloom this week...maybe it will not set the world on fire, but it has enchanted me for several years. Or to be honest, since I first noticed it. When was that? Two years ago the Ratzeputz gang (a half dozen of the leading horticulturists of the world) came to Colorado to explore the mountains, and some of them came early to visit DBG. These  included Kurt Bluemel who owns the leading nursery of the Washington D.C. area, Pierre Bennerup, who created Sunny Border Nursery in Connecticut, and Georg Uebelhart--the co-owner of Jelitto Seed company. As we strolled through Woodland Mosaic garden, one of them noticed the Napaea and asked what it was. I am embarrassed to say I was stumped, and it took a few days to track down the identity (today it is properly labeled!). Our plants trace to a plant in Dan Johnson (Assistant Director of Horticulture) purchased for his home garden from Plant Delights Nursery in North Carolina and later shared with DBG. Ironically, Tony Avent (featured in the very last blog) is not offering it currently. But there are a very few mail order sources that do. Needless to say, I sheepishly had to email my august Ratzeputz visitors the name and that the plant in question was an American native...I think it is telling that none of us knew the plant at the time. Characteriscally, Tony's not only known it, but grown it for years and probably dropped it from his catalog because no one knows about it to order it! If you heard his terrific talk last night, you will recognize this plant as being a "specialized nursery" plant, one you are extremely unlikely to find at a generic garden center or box store. But there are a very few mail order nurseries that sell it, and our propagation department may well have it at our sales in future years.
I have a strong hunch that if you have read this far you may already know about Denver Botanic Gardens' Plant Finder. This extraordinary tool on our website was developed by Cindy Newlander, who heads the Plant Records division and is Associate Director of the Horticulture department. Cindy heads a talented and hard working team of horticulturists who map and label our vast, complicated and ever changing collection of plants. I don't believe I have found another Botanic Garden with as comprehensive (or public) a program of documentation: if you put Napaea dioica into this database, you will find the four spots it is growing (in Woodland Mosaic and the new entry garden by the Cheesman gate). I checked both spots--the plants are there. Ordinarily, the Plant finder will have photographs as well, and a great deal of data about culture and bloom time. It is a remarkable achievement, and Cindy (and Denver Botanic Gardens) should be commended for making such a vast amount of data available (data that are usually hoarded, hidden or possibly not even existing at other institutions!).
Oh. yes. The title. The plant does indeed exist--but did it before you read this blog?