Join us in the Gardens on Saturday May 19 to celebrate Plant Conservation Day.
The third week in May holds many opportunities to celebrate our rare and native plant species in Colorado.  Not only is it Celebrating Wildflowers week, a week to get out and enjoy wildflowers in bloom on public lands in your area, but Endangered Species Day and Plant Conservation Day fall within the week as well. We invite you to join us on Saturday, May 19 to celebrate Plant Conservation Day at the Gardens.
Did you know there are 33 species in Colorado listed as threatened or endangered under the Endangered Species Act? Sixteen of them are plants and we at Denver Botanic Gardens are working to conserve each of them.  Through our partnership with the Center for Plant Conservation and the US Fish and Wildlife Service, we are working to collect seed of all of our listed species.  Once seed are collected some are germinated for grow-out at the Gardens while the majority are sent to the National Center for Genetic Resources Preservation.  We banked valuable seed of 10 federally listed species through seed collection efforts in 2009 - 2011. This year we are actively collecting seeds of six rare species and working on germinating several species to put on display at Denver Botanic Gardens.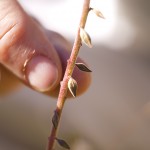 Come to the Gardens this Saturday and learn more about the work we do throughout Colorado to help document and protect our rarest plants by meeting staff from the Research & Conservation Department.  Activities in Mordecai Children's Garden will have a conservation focus, and a new Garden Navigator tour will help direct you to areas of the gardens which highlight native plants. We will also have information on display from Denver Parks and Recreation's Purge the Spurge campaign to eradicate Myrtle Spurge from yards in the Denver metro area.  You can also pick up your copy of the newly revised Meet the Natives book by the Garden's curator of native plants – Dan Johnson.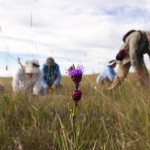 We encourage you to get out and appreciate wildflowers and native plants through hiking and expanding your knowledge of our native flora through areas and programs such as Mount Goliath (on Mount Evans) and the Colorado Native Plant Society.