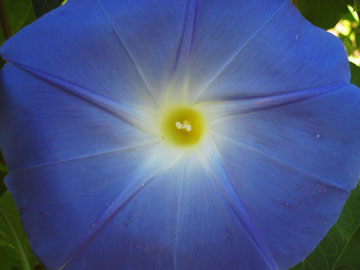 Ambassador Jan here! Without question, one of the greatest gifts that I receive as an Ambassador at Denver Botanic Gardens is the gift of meeting new people and making connections. We, all of us, like this thing whether we know it or not. We like making connections.
Plants are the tao, the way, that the Gardens makes the connection between you and me. They reach right down to our souls, touching us with their beauty. But what is this thing that reaches out and touches us? And why do we feel beautifully and perfectly connected to plants?
I don't really know at all! I don't need to know. I am privileged to see this unnamed thing in your smiles every moment that I'm here and whenever I think about this magical place. One kind of smile that's particularly dear to me is the smile on our children's faces. There's something about the smile on a youngster's face that reminds me of a flower: so innocent yet so bold, so ready to seek the sun, so without boundaries. So fearless! And so giving….
I've always thought that plants, like family, children and good friends, are some of those things in life that GIVE more than they take. Bring your kids to the Gardens and watch them blossom with delight! Bring your family and friends but be sure to bring SOMEONE that you want to connect to. And I guarantee that you will.